Every mother wants to take care of her baby and his safety as best as possible. Hygiene is one of the very first steps in such an important endeavor. How to choose really safe means not to make a huge gap in the budget?
The most famous series of detergents for young children – Eared nanny. This line does not exactly ruin the parents of the baby, but the reviews after its use can be found very different. I think, given the huge popularity of the Hare, this is not surprising, because how many people have so many opinions.
Detergent
Personally, I am quite satisfied with the quality of the products of Nevskaya Cosmetics, the powder washes satisfactorily at 40 degrees, and I remove complex stains with the help of their bleach or stain remover. German powder Burti and Japanese Lion washed plus or minus at the same level.
Many will begin to say that these tools contain terrible surfactants, so they are not suitable for children! Alas, from my own experience I can say that these safe means, supposedly without surfactants, are not capable of washing anything at all.
Allegedly, because many manufacturers of such safe means do not publish the composition of their products completely or completely remove them from their sites. And on the Internet often go a variety of versions about how, after all, this or that powder was made.
In any case, I always use an extra rinse after the children's program in order to wash out the remnants of powder and conditioner as much as possible. If I washed them with ordinary children's soap, it would still not give a full guarantee of safety, so any means must be thoroughly washed off.
Bathing facilities
Alas, domestic funds did not withstand any criticism of consumption. There is no point in buying three bottles of gel for washing babies at the price of 60 rubles per piece per month, when a better quality product at the price of 250 rubles lasts two months, or even longer.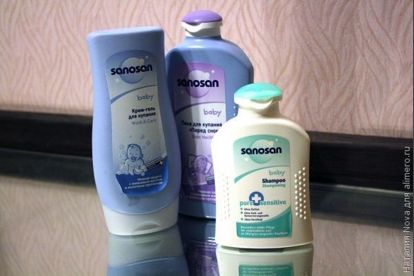 Dishwashing liquid
Of course, there is always the usual soda, which can safely wash the dishes for the baby. Everyone is usually afraid of the presence of an anti-pesticide in this agent, claiming that they do not use such chemistry abroad. But this is not quite so, and if you are worried that something remains on the dishes, wipe it dry with a clean cloth, by the way, if you wash with soda, this is also quite good and that is quite enough.
Think before you buy a product for an astronomical amount – is its composition really so safe that you can drink it, or do you just pay for the brand?