My child is not yet two years old, and he has 10 desires. And very often it happens that many of them are quite difficult to accomplish. So what to do: indulge or ignore?
Since both words have a slightly negative emotional tinge, I do not want to apply them to the child. To indulge is to contribute to something not very good, to ignore is to neglect the desires of the child. And here, as always, you have to look for a middle ground.
The task of parents to understand, understand these very desires. And this is sometimes so difficult. I think there are several possible scenarios.
Option One: Desire is Dangerous to Health


Very often, children want to do very interesting, but dangerous things. When I saw my son, busily heading with the key to an unclosed outlet, I just had no time to doubt, and the word ignore here, too, does not fit.
Of course, since then all the free sockets have been closed with us, but after all, the child has such desires for the sea! Jump on the couch, open the freezer, stand on the windowsill, take off the mittens in the cold.
I have big doubts about the situation when a child of two and a half years old wants to spank through puddles and mess around in the mud. Allow or prohibit? On the one hand, when, when not in childhood, does a child tinker in the mud? And on the other hand, how to protect him from diseases and teach him to be careful? Maybe I'm not right, but often I do not allow zealousness in this matter.


Option Two: Desire Delivers Troubles
My son loves to mess with me in the kitchen. I wash the dishes – and he is with me, I disassemble the rump – and he needs it, I water the flowers – and he is on the pickup. So every day we have to wipe the puddles, sweep the floor several times a day and periodically allow him to water the flowers under supervision so that he does not flood them. So what to do? Allowed once – get it, sign it. You have to be consistent. In the end, it is all good for development.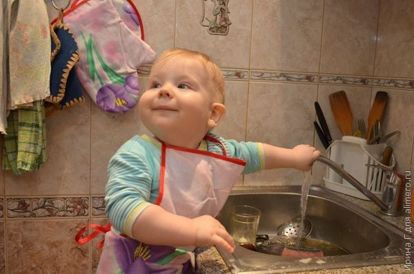 I don't know how anyone does it, but we don't manage to ignore the wishes of our son: he does not allow. So that any unfulfilled desire does not turn into a scandal, we have to distract, switch attention, offer him something more interesting.
Here, for example, if he urgently wanted to ride on a swing, and I have milk on the stove and look to run away? I think the most effective way here is to show him how this very milk almost ran away. And we have salvation in such situations – a window. We love to watch the passing cars.
Option three: the desire is doable, but … not today


When we go for a walk, we always pass by the bus stop, and the son always tries to take me to the bus (he likes to ride this type of transport). We have to explain that today we are not going anywhere and distract, distract, distract …
Waiting for the moment when the son asks to buy something in the store, but I can't do it … Although once there was something like this: he saw a bunch of machines in the grocery store (such as caramel inside). Of course, he was more interested in the cars themselves.
Seeing with what excitement he began to choose toys, and trying to take him away from there, I realized that it would be difficult. Then I just waited for him to consider them, and then asked him to put the cars back in his house. Very surprising, but he set them quietly, and we went for a walk.
findings


I am sure that you can neither ignore the wishes of the child nor indulge them. You just need to be always close and try to look around from the position of a little man who still has to learn the world. And tirelessly to explain, teach, protect and sometimes allow yourself to get bumps.