This topic is for all moms who are tired of the fact that the kids are constantly pulling their skirt, and still whining, crying and not letting go of themselves even at 23.00, when mom has one desire – the child would quickly fall asleep.
My daughter is now such an age when it's time to tear her skirt off. 4 years is exactly the period when words and phrases I myself appear more and more in the daughter's vocabulary. Can I do this, Mom, I'm already an adult. And this means that the daughter needs her own little freedom. But she does not know how to use it and why she is needed. This is an inner desire, and outside there is still a complete dependence on mother.
I once read a phrase that a child does not have for a mother. And I absolutely agree with her. I'm still for my mom a little girl. And what to say then about my daughter! I do not hold on to my mother's skirt, but just what's wrong – I immediately call her. Here you have a dependency on mom. At every age she has her own.
But if the child will always be near the mother, he will not be able to choose his own way and will not know where to turn in case of danger. Therefore, now I have the primary task – to teach my daughter independence.
Now I am taking the first steps in this direction. A lot of things I can not. But I have developed a plan for myself that I try to follow.
Adult time for a child
I try to set aside some time for my daughter to work out adult affairs, as she likes to say. You can clean your room, put the toys in the closet, wash unbreakable dishes, wash the dress of your favorite doll. And also bring dad a hammer and walk the cat. My daughter likes to feel adult and useful.
I admit honestly that all this time my daughter slept in the room with me and my husband. Maybe this is partly due to the fact that she is too dependent on us. We decided to fix it and make the baby a separate room.
While she is finishing, but my daughter already knows that there will be her cot, a locker and a separate table for Barbie. Separate space will somehow tear her off my skirt, I hope, and she will feel like a full-fledged mistress of her territory.
Game Partner
This item implies a brother or sister. Deciding on a second child is difficult for me now, although I really want to. But due to certain circumstances, we have so far left this question open to the husband. And I think it would be easier for my daughter if she communicated not only with me and her husband, but with another native little man.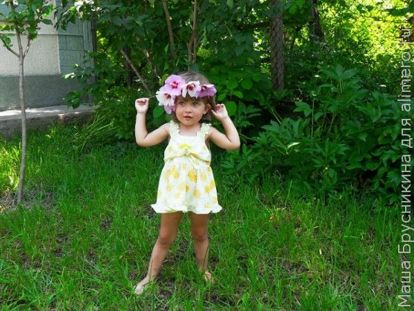 In the meantime, we have a neighbor girl who is older than my daughter by 2 years old, but they walk very well together and I have a free couple of hours to do household chores.
Do you have your own methods of dealing with mother's tails?