I want to share my little experience of the regime of the day of the child in infancy. Now we are already two and a half years old and sometimes, looking through the photos, I understand that some moments are forgotten.
But my friend does not let them forget completely. In late January, she had a son. So now I am acting as an online consultant for the care and education of the boy.
I want to tell you more about our regime by months.
From 0 to 3 months
During this period, children sleep a lot. They wake up only for feeding. But it is at this age most often suffer from abdominal pain. Every mother struggles with this by her own methods.
We were no exception. Especially in the first month, the son woke up at night or in the afternoon, kicked up his legs and screamed very strongly. We tried to apply a warm diaper, gave Espumizan, did a tummy massage, I tried to sit on different diets. Nothing helped. Only by the end of 3 months we became a little calmer.
Now, many experts advise to feed the child on demand, but we had a regime in this. We fed every 2.5-3 hours, and at night if nothing bothered him, then it happened that he could sleep for 4 hours. Maybe this is selfish of me, but if we feed on demand, then I simply could not even go to the store, fearing that the child would wake up and look for me.
We were born in the summer, so we walked outside for a very long time. We tried to go to the park or go to the forest so that the child breathed fresh air. They spent about 3-4 hours a day walking.
3 to 6 months
I remember now the words of my grandmother. She told us every three months, so Vanya would become more mature and already be easier. Probably, the son heard these words and did the opposite. In all the books it is written that after 3 months in the afternoon the baby plays more, but at night it wakes up 1-2 times. But no, the son decided that he would not be like everyone else.
In the afternoon he slept now only on the street, and fell asleep at night around 6 in the evening. If we managed to stack it at 19.00, then this was our small victory. Attempts to lay later ended with such a hysteria that we decided to let him sleep when he wanted. And the child woke up at 3 nights and walked. He wanted rattles, songs and dances around him. He slept well and was ready to play, but we did not share his views at all. That's how we confused the day with the night.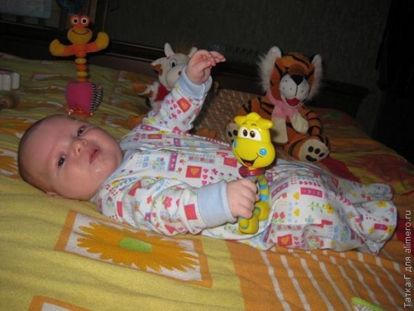 For games, we bought him a developing mat, on which they began to roll over in both directions in search of a toy. Back in the waking period, I constantly talked to him and sang songs to him. I had the full feeling that if I did not do this, he would be bored. Or I simply had a lack of communication with people. Maybe that's why the son began to speak early.
6 to 8 months
At this age, our sleep was reduced to 2 times a day. In the afternoon, the son still slept only on the street, and in the evening – with me or with my husband in his arms.
In 6 months we started feeding. First we tried vegetables, then fruits, meats, and lastly dairy products. I bought him either canned food or proven products.
From 8 months to a year
The son began to sleep once a day, but the duration of sleep increased. As for nutrition, we slowly began to replace breastfeeding with regular food. I have already said that at this age we had diathesis. I was so tired of diets that I decided to wean my son by 1-1.3 years. I excommunicated him for about 4 months.
He went to 10 months. We began to walk in the yard or in the park with other children. Got the first bruises and bumps. First ride on rides and cars. At this age, we had first friends and girlfriends.
Of course, the day regimen needs to be organized, starting at birth. This will allow a healthy as well as disciplined child to grow up. And you can plan time and set it apart for yourself and your husband.