Our children – personality initially creative. Do you agree? Take a closer look – as they seek to paint the wallpaper, lipstick from my mother's cosmetics. Or shred the fishing magazine forgotten by the Pope into openwork shreds … They want to create, and our task is to channel this desire to a peaceful course.
Today I wanted to tell you about those wonderful hours when I worked with my kids. From about the age of 2, they were allowed to do a lot of things – to sculpt from plasticine, to draw with crayons and paints, to sort out bright buttons and beads. You do not know where to start? Suggest to make a choice for your baby, he certainly will not be mistaken.
Once I noticed my daughter's interest in a ballpoint pen, I went to the stationery shop and bought, probably, half the counter. When she came home, she laid out in front of her on the table paints, felt-tip pens, wax and ordinary crayons, as well as a package of ordinary pencils.
At first, the little girls liked the markers, because they left a bright mark on the light touch of the paper. By the way, I consciously chose water-based markers, and for good reason. My little one was so fascinated with drawing that she decided to decorate not only the album, but also her T-shirt, and ordinary felt-tip pens are not so easy to wash.
A little later, we began to learn the colors. I taught the little girl to wash the brush, change some water and carefully paint. But we tried to draw in 4 ways:
– fingers,
– sponge
– using a stencil,
– and, actually, a brush.
At first we learned to draw points and lines, and a little later – circles, ovals and zigzags. When she mastered these simple figures a little bit, I offered her a coloring book. Imagine, she very quickly learned not to go beyond the lines, and she liked the process so much that in the first year of our work she decorated a dozen of three such little books.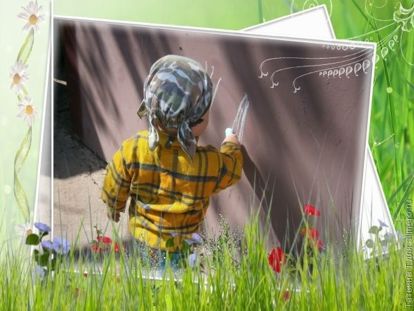 Now she is learning to draw my son, and my sister helps him.
Sculpt, sticking, cut out

Plasticine we mastered, since one and a half years. They made sausages and flat cakes, cut them with a plastic knife or tore off small pieces. I especially liked my daughter to roll clay with a rolling pin and squeeze various figures out of it. But sonnyu most like to stick pieces of clay to the picture – to decorate the picture.
Everything that I once taught my daughter, now my son masters. We have already done the application of cereals and salted dough. Cut out small circles and flowers from paper. Drawn on flour and small grains. They also made beads from buttons and beads.
These are the fun with a creative bias, I came up with for my children. What do your little ones like to do?