All mothers know that baby's skin requires special care. I have not heard of such cases when the crumbs would avoid skin problems. Allergies, bites, bruises, reddenings and other troubles occasionally affect everyone. Today I want to talk about my assistant in the fight against these troubles.
About our acquaintance
La Cree cream appeared at our home on the advice of the district nurse. My son was about a month old when we had a problem: his cheeks were covered with a strong rash. Then he ate only breast milk, so I began to look for the cause of the rash in my diet. But no matter how I changed my diet, nothing helped.
When the nurse saw the baby, she assured me that it was an allergy, and recommended buying La Cree cream. Since then, this cream has become my indispensable assistant.
Indications for use
La Cree cream is recommended to relieve local symptoms of allergic reactions and inflammatory manifestations on the skin – redness, irritation, itching, rashes and peeling. It is effective for relieving itching after insect bites and plant burns. In addition, it is used for solar and thermal burns of 1 degree and to eliminate diaper rash. I want to note that this cream does not contain hormones.
In this case, a contraindication to the use of this cream can only be an individual intolerance to the components that make it up.
This cream consists of plant extracts, therefore, has a specific brown-greenish color. The cream contains three groups of components: anti-inflammatory (anti-allergic, antipruritic), anti-microbial and stimulating regeneration.
The first group includes licorice extract, bisabolol, violet extract and succession extract. Licorice has anti-allergic, anti-inflammatory and enveloping effect. Bisabolol is the active ingredient of camomile pharmaceutical. He, like the extract of violets, has a calming and anti-inflammatory effect. Everyone knows about the healing properties of the train. However, I remind you that it has anti-allergic, wound-healing and anti-microbial effects.
The second group includes walnut extract. It is a natural plant antibacterial agent that suppresses more than 100 types of microorganisms.
And finally, the third group consists of avocado oil and panthenol. Avocado oil effectively relieves rashes and eczema, heals wounds, and also has a moisturizing effect. Panthenol has a regenerating and softening effect.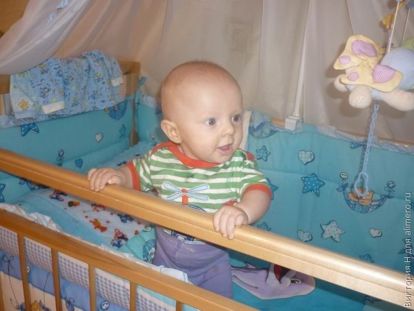 This cream is absolutely safe for kids from the first days of life. I learned this from personal experience. He helps us deal with a variety of problems on the skin of a child. Even if my son has a bruise or a bruise, I smear them with La Cree cream, and in 2-3 days the skin becomes clean.
How do you solve the skin problems of your children?