Every mother loves to play with her baby. And every mother wants her child to grow up healthy and developed. It is wonderful that you can combine business with pleasure – and play and direct the game to the development of the child.
Sometimes I want to play with my son in such a way that I link up several lessons in a logical chain. I took this idea from a visit to a children's development center.
It does not take a lot of time, especially since we do not work, but relax and enjoy the company of our child. Of course, every time I come up with some nuances, I introduce diversity, so that the kid does not get tired of doing the same thing.
In this topic, I will tell you how we played this morning with my baby, who is 1 year old. The son has a favorite toy bunny, so he will be the main character of today's game.
Find the bunny
In some part of the apartment I put the bunny to sleep. And then I ask my son to find him. Naturally, we do it together, sometimes to the music, but today, just to our scream and squeak.
What gives: a child learns to understand requests, to concentrate

Bunny we still have a lover to sleep. Therefore, we just never manage to wake him up. Therefore, we always use the available musical instruments: bells, drum, metallophone, pipe. And today went to the course maracas.
What gives: the development of logic or causal relationships (knock – will soundto)
Dance with bunny
Turn on the music and the three of us as we can and dance.

What gives: physical workout. Children need frequent change of activity, otherwise they quickly get tired.
Cook a hare lunch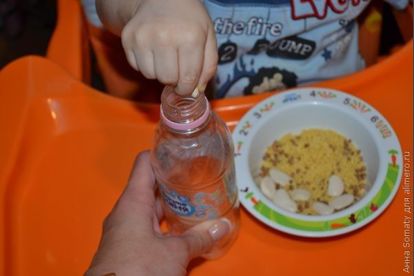 Today we cooked porridge: separated the beans from the cereal and put it in a bottle with a thin neck.
What gives: the development of fine motor skills

Sometimes we bake cookies from the dough for modeling, cut out of it with stencils figures.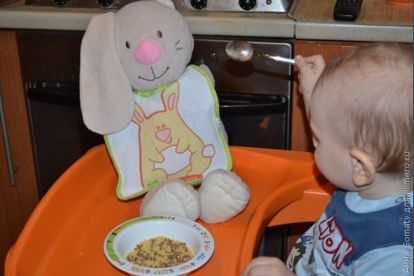 Here we just learn to wield a spoon. I noticed that a hare always gets a lot more porridge than a son during breakfast.
Rock the bunny
After lunch, we read him a book and put him to bed. Son loves to rock and sing lullabies in his toy, bird language. But today, they managed to do without a book, apparently, my child was in a hurry to go outside for a walk.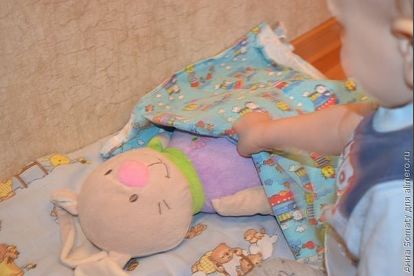 It is clear that every day we have something new: playing with a ball, collecting toys, catching up with each other, drawing, making, folding, and much more, the main thing is to be and develop together.
I really like to play with the child, draw, sculpt, learn something, well, when there is any progress, I'm utterly happy. How do you play with your babies?