When I was still pregnant, I attended courses for future moms. So there was a lot of discussion about whether a nipple should be given to babies or not. For myself, I realized that in this matter there are both a lot of minuses and advantages. But I decided to be fully prepared and in advance went to buy in a pharmacy a pacifier for an unborn child. And then time will tell whether it is useful to us or not.
I thought it would be easy to buy a pacifier, but as always I was mistaken. In general, everything that concerns children requires a careful approach and the choice of the optimal variant. So it turned out with the nipple.
Today moms are offered a huge selection. In a conversation with a consultant, I learned a lot of new and interesting things.
First, the nipples are made from different materials. Most often buy latex and silicone teats. Latex teats have a yellowish color, but they have protein in their composition that can trigger an allergic reaction. Silicone nipples are safer in this respect – you can recognize them by their transparent color.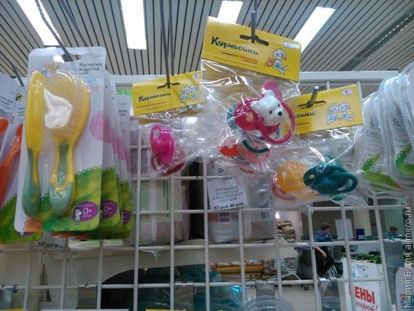 Secondly, again regarding the nipple material. Latex nipples fail faster – cracks appear on them, they can stick together. As a result, the nipple is already becoming potentially dangerous for the baby. Silicone nipples are more durable, but as I was told at the pharmacy, cracks may appear on them. In addition, these nipples can crumble. But still, silicone nipples need to be changed less often than latex nipples.
Third, my attention was paid to the shape of the nipples. If earlier they were all in the form of a nipple, then today there are orthodontic nipples in the form of a droplet, as well as nipples with a single cut edge. And you need to look at the size of the nipples, because for children up to 4 months they go very small – no more than 1.5 centimeters. And in general, there is a gradation – the nipples before and after 4 months.
Fourthly, it turns out that it is also necessary to look at the base on which the nipple is fixed. It should be big enough, but not close the baby nose. Also, it should have holes so that the skin of the baby breathes during sucking, and there is no irritation around the mouth from the accumulated drobbles. And another very important point – the base must be solid, so that in case of a breakdown the baby does not swallow any details.
Fifth, no rhinestones, jewelry and other trinkets. Again, there is one reason – the child can bite off the jewelry and choke. Beauty is beauty, but the safety of the child is more expensive.
My choice as a result
In the end, I bought a silicone pacifier, which has a trimmed end on one side. This nipple lasts longer, and it is more properly placed in the baby's mouth. In addition, a special little case came with it, which can be put on the nipple and protected from dirt. I also bought a special fastener for the clothes of the baby, so that the nipple did not fall and was always at hand.
I must say that the nipple really helped us survive colic. They say that during sucking the child calms down better and feels less discomfort. I noticed it, and in our difficult days my daughter with the nipple fell asleep quite quickly.
Now we have a year. We have already switched to the orthodontic nipple in the form of a droplet. As pediatricians and dentists say, such a nipple is needed when the first tooth appears. It is small and does not affect the growth of teeth. Of course, my daughter is not always with a pacifier. But sometimes she helps us a lot!
Do you use a dummy? And what is your choice?