Before the birth of the child, I bought different things to care for the baby. Some things I really needed, while others lay unclaimed. I assumed that I would definitely need a baby cream.
Therefore, she purchased in the store 2 children's creams from different manufacturers. One of them – children's cream Ushasty Nyan protective under a diaper. I bought it because I liked the fact that it is hypoallergenic. This property is important when choosing cosmetics for kids.
The cream is sold in a vertical plastic tube with a volume of 100 ml. A tube of cream has a bright yellow design with a company emblem in the form of cute little animals, and at the top of the tube there is a peach and a calendula flower.
Since the cream is designed to protect the baby's skin against diaper rash during use of the diaper, the main component in it is zinc oxide. Its purpose when applied to the skin is to create a continuous layer that protects it from irritating substances. But at the same time a protective layer of cream lets the air to the skin of the baby. Zinc oxide dries well and removes irritation on the skin.
Peach butter adds to the children's cream nutritious and softening properties. They help to eliminate the roughness and flaking of the skin.
Calendula Extract, part of the cream, improves metabolism in the skin cells, has anti-inflammatory and healing effects.
My experience of applying baby cream Ushasti Nyan
The consistency of the cream, in my opinion, is too thick. It is not very well smeared on the skin and has a heterogeneous structure (there are grains). When the child had small diaper rash, Eared Nanny cream helped well.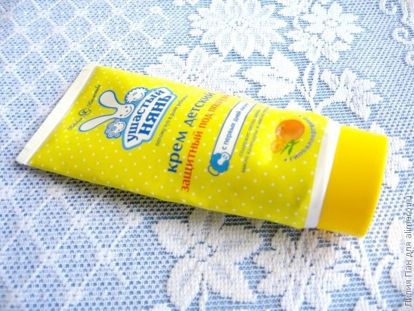 But when my child was 5 months old, he began to appear strong diaper rash. I connected it with wearing diapers, warm clothes (as it was already a cold autumn) and allergies. I began to apply a protective cream under the Eared Nurse diaper, applying it with a thin layer on the baby's ass when changing Pampers.
I can not say that he fights well with strong diaper rash. We coped with such diaper rash thanks to a weak solution of potassium permanganate and an aqueous solution of alum. Alternately, during the day I was washing the child in water with one of these substances.
Now I sometimes use cream for irritations on the body of a child. He acts effectively in these cases. Baby cream Ushasty Nyan protective under the diaper is a good cream, but not the best.
And you used baby cream Ears nanny?