So another year has passed for the baby. He became more mature, began to understand more, and a more widescreen celebration became possible. My husband and I decided to celebrate the birthday of the child in the children's cafe.
The cafe was chosen themed, called the Cave, next were ship decorations, inside which was hidden a playground, and a little further a game room for older children. I wanted to take into account the interests of all the guests. Therefore, we made this holiday a family one.
Still, no matter how good your friends are, this event is more interesting than your own family, nobody will. Therefore, we called grandparents, all uncles and aunts of the child, the closest to their children. There were two children 10 years old, 1 girl 5 years old and about 10 adults.
Menu
Of course, the main issue was the menu. We stopped and booked tables for 2 weeks and immediately discussed the menu. First, they took to children children's dishes, decorated in the form of masts of ships. These were mini hamburgers, french fries and salads. For our two-year-old son, we ordered a chicken soup in advance. Which in the end he did not eat, since he began to take away all the french fries.
For adults, we did not choose individual dishes, ordered 2 huge plates with different types of kebabs, three common plates of Caesar salads and veal, vegetable and fruit platter, took juices, 2 bottles of champagne, eventually drank only one. And, of course, they took with them a bright orange cake – a biscuit with bananas.
While everyone was going to the cafe, I decided to take the visitors who filled out the questionnaires. I made a profile in advance for each guest. With standard questions: who does the baby look like, what will he become in the future, what do you want him. It was said that the questionnaires would be sealed and read by our son on the day of his 18th birthday, so everyone left wishes for his 18th birthday. Guests found it interesting and gladly filled out questionnaires.
She also made letters for grandparents, signed by the hand of her grandson, and attached A4 printed photographs to them, where each grandmother or grandfather was holding a baby. To say that the grandmothers were delighted, to say nothing.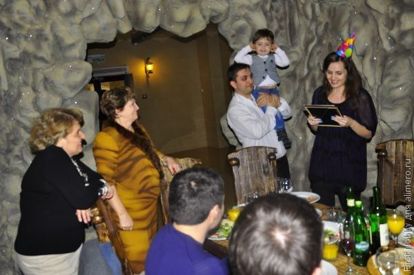 Then, the first toast was said and all the kids ran to the playground, the adults eagerly began to eat, and I ran with my son back and forth. He was taken by my grandmother to the playground a couple of times, and I was given some time for me to eat at least something. In the end, everything for me was somehow crumpled and quickly. I asked to photograph the girls. But she photographed everyone herself, holding her son in her arms.
Also, we put my traditional video clip, telling about the second year of a child's life, right in the cafe. It was very dynamic and fun. Everyone liked it, and the kid also looked at himself with interest.
Of course, not without gifts. Someone donated money, some cool toys, and some one of the things, having agreed with me beforehand. One toy of the child was interested, it was a plane and a truck with cogs and screwdrivers. We often disassemble and assemble them together.
But one toy in it causes fear so far. Therefore, we have it so far standing idle. They brought me, as a hero of the occasion, the whole two bouquets of tulips. I was very pleased.
And after a couple of hours, all the kids were wet from the games, some guests began to go about their business, in general, we decided to cut the cake. We had one candle with the number two. Sang Happy Birthday. The kid looked at everyone and smiled, and then they all blew out the candle.
Further, it was decided to send the baby and grandmothers home, and we, the closest ones who could stay, decided to go bowling in the same entertainment center. So, at least I, too, calmly sat and rested, and talked to people.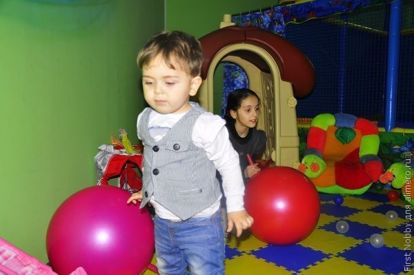 Overall holiday rating
I understand that the members of the forum will not be surprised with my notions for the holiday, but for our guests it was so unusual and surprising that they all told me about it, about how well I organized everything. Of course, I was very pleased.
But, there was one drawback, when we arrived home, it turned out that I was at everybody, and I watched the table, and ran around the kid, and also managed to take pictures of everyone, but I didn't have time to eat anything either.
Seeing among the pile of photos of just a couple of successful with me and with the child, I was seriously upset. And she told her husband that he was sitting there as a guest, and did not help me at all, but only distributed the instructions. Conducted an explanatory conversation and calmed down. In general, the holiday was remembered by all for a long time.