Like all parents, we wondered how to celebrate the very first birthday of a child. It is clear that this date is more likely for parents than for a child. The whole first year of motherhood in the background. The year when the whole life changes and becomes upside down.
Where and how to celebrate – that is the question?
Of course, children are different, and all in different ways endure the heightened attention of a large number of people. For some, it is in the order of things. And for others, such as we, the guests – a rare and terrible phenomenon.
My husband and I did not have to argue for a long time about the format in which this holiday is worth noting. Since we lived on our own, our son was not used to strangers, he rarely even saw his grandparents. Therefore, the idea of ​​celebrating somewhere in a public place or inviting a crowd of relatives to me immediately disappeared.
We decided to celebrate the birthday in a way that will be quieter for the child, respectively, and us. It was a quiet family holiday.
Although the holiday was modest and family, but it did not go without entourage and preparation. In the evening, we hung a Happy Birthday poster on the wall, and as soon as the baby fell asleep, we inflated balloons and hung them up and scattered them everywhere. We bought him a Tsar's hat, as a birthday hat.
For a month, I specifically worked on a video clip for his birthday, where I collected the most important moments of development: the first smile, the first coup, the first attempts to crawl, the first steps and other touching moments.
Later on, it became a good habit for me. And by the second birthday I also made a video clip with the most vivid events in the life of the baby.
We showed the video clip to all our relatives and guests, who eventually came to us in turns to congratulate them. Everyone loved it.
The holiday comes to us
The next morning, when my son woke up, he immediately felt the peculiarity of the day. Both mom and dad congratulated him, smiled, dad played and threw him in the air longer than usual. The kid really liked the balloons and his birthday crown.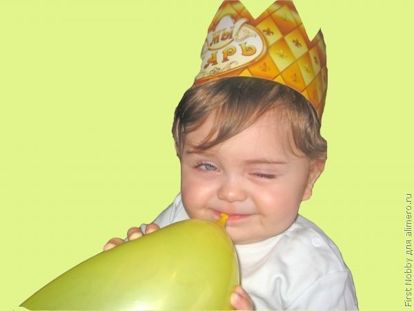 Also, it was not without a festive cake with a candle-unit, which I now have in a special box. Blow out the candles from the kid himself, of course, did not work out, but I helped him and made a wish that he was happy and healthy. What else does a baby need?
After lunch, we went and bought a present for our son a red wheelchair, played with him in the children's room, bought them in a dry pool, and while we were walking, friends called us and said they would come. I quickly realized that they could cook delicious food, we bought a couple of ready-made salads, fruits and went home to wait for the guests.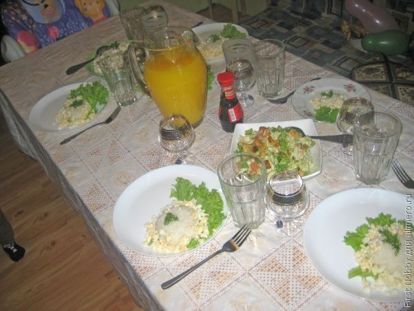 I also had an idea to release a sky lantern into the sky, but right in the morning it started to rain and there was a strong wind, and we decided to abandon this idea. All my unrealized plans for the celebration of my son's birthday were realized in the second year.
In general, I was pleased with the holiday. The baby was calm and happy all day. And my husband and I disappeared, and even managed to communicate with friends a little bit.