Probably, every mother wants to give her baby the most healthy and tasty food. I was no exception to this rule. In search of special dishes for children, I read a lot of information. And so, armed with knowledge, I started cooking.
However, my daughter for some reason was in no hurry to appreciate the delights of my culinary masterpieces. With the always dreary look, she glanced at these creations and the only thing she did masterly was spitting food. So went day after day.
I spent a lot of time on cooking, because it was necessary to provide the baby with a full breakfast, lunch and dinner. But the result was always the same: the food remained untouched. At best, of course, I managed to stuff a couple of spoons into my daughter, but no more. And if we consider that all this was accompanied by her indignation and shouts, then I did not feel joy.
However, throwing a venture did not give me a conscience. The child must eat. You just have to wait for this moment. Sooner or later the appetite will appear. So I missed a whole month. And then a simple and probably brilliant idea came to my mind. Why not buy canned food?
I confess that at first I stubbornly drove away this thought. Still, the child should receive the most useful food, and what is the use of food, the shelf life of which is sometimes even more than 1 year. But then I tried to fairly assess the advantages and disadvantages of this food. And that's what I came to.
So, canned food:
1. Saves time. No need to spend a lot of time on cooking: I took out food and warmed it up and gave it to the baby. With the same homemade food can be carried for quite a long time, because you need not only to clean and cook the products, but also to grind them.
2. Saves money. Usually the jar can be stored in open form for 1-2 days. It turns out that if the child does not intend to eat all its contents at the moment, you can put it in the refrigerator and wait for the next meal. And ordinary homemade food is more expensive, because it is impossible to cook, for example, 10 g of meat or 20 g of potatoes.
3. More diverse. It so happened that we had the introduction of complementary foods for the winter period. Of the vegetables were only potatoes, carrots, beets, cabbage, onions. Canned food also offered a much larger range. To all of the above, it was attended: green peas, broccoli, cauliflower, zucchini, etc.
4. It has a delicate texture. Babies at the age of 6-10 months still can not fully chew food, so they have a very good taste for puree.
5. Mother preserves nerves. Probably, every woman is hard to realize that her works were not appreciated. And instead of praise, she sees the disgruntled face of the toddler.
However, for myself, I decided: canned food is good for the time being. As soon as the child has a good appetite, almost all the advantages of this food become disadvantages.
So, first of all, the savings are lost: if a child eats a whole jar 3 times a day, then ordinary products are much cheaper.
In addition, the baby has teeth, and finely chopped food is no longer needed – the child needs to learn to chew.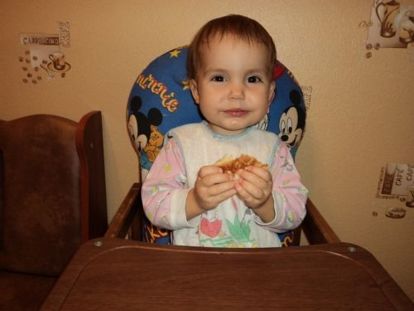 We have a moment of rejection of canned food came at about 11 months. It was at this time that my daughter had a good appetite, and she began to eat the food I cooked with pleasure.
And her teeth already got out as much as 12 pieces! So she was great at chewing food.