Harmful or not long-term breastfeeding?
I was very surprised when I saw moms who feed their children under 5 years old, and even more. This, in my opinion, is overkill, although I never dare to judge other people, but I don't understand so long feeding.
Personally, my opinion is that a child can be fed up to 3 years. This is the most optimal age. I'd feed like that, but, to be honest, I'm tired of it myself and just decided one day – that's enough. Night feeding with us disappeared a long time ago, the ritual was booted in the morning and during the day.
Probably, like many moms in such a long feeding there was an element of laziness. I had no idea that in the morning, when the child wants to eat, you have to jump up and cook him porridge. So I gave him a breast, and we quietly still huddled in bed for an hour. But still I decided.
And in the morning she simply did not give him his chest, but got up and prepared breakfast. Surprisingly, my child did not even remember about the breast. I was even hurt. But this is what I am for, that it is at this age that the child is ready to independently, without stress, give up the breast. Can mommies boast quiet weaning at the age of a year and a half?
Also feeding up to 3 years from a mental point of view is very useful for a child. HB is direct contact with the mother, and accordingly the child feels confident and protected. I am sure that almost all children who abandoned HB at an early age began to suck their fingers, pacifiers, this is due to the fact that children are trying to compensate for the loss of feeding. And sometimes they suck these fingers up to 4-5 years and it becomes a very bad habit. Think about why.
In general, I am not agitating anyone, I just confirm, having a psychological education, that feeding to this age is recommended. BUT
to feed or not is a personal matter only for mother and child.

Breast condition after weaning
By the way, I always had a lot of milk, both in three months and in two years of a child. Therefore, the most difficult moment in the weaning was exactly my chest. I immediately decided that I would not drink any pills and so on. Just lay in the bathroom and massaged his chest. Although the seals and pain was. But I tried to drink less and after 4 days they resolved themselves.
Milk sometimes still appeared. From one breast you can still squeeze a few drops. To be honest, I really miss these moments. And sometimes when
the son is petting the sis and trying to suck her, nostalgia captures me straight.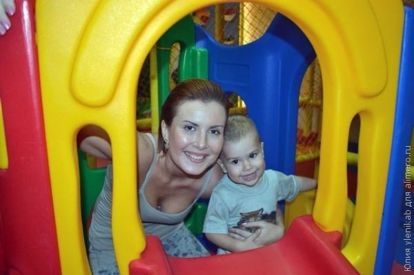 And by the way, I have a completely healthy and self-confident boy. Therefore, I did not do anything bad for my son. On the contrary, I think this is a maternal duty. Let it be said that milk after a year is only water. My son's immunity has always been high, and I believe it is precisely because of GW.