Without exception, all parents want their baby to be born healthy and beautiful. But very often after the birth of a child, birthmarks are found on his body. And the question arises in the parents head: What to do with it?
Birthmarks – what is it?
Just a couple of years ago, I was sure that coffee-colored spots of small sizes belong to my loved ones. The word birthmark is very close to the word of the native, so I thought that they were passed on to children from their parents.
This conviction was confirmed by the fact that my birthmark exactly repeated the spot of my mother, both in shape and color, and in location. However, when my son was born with various spots on his body, I learned that everything was not quite so.
Such spots, or nevi, can be completely different in color as well as in appearance. The causes of their occurrence are unknown. Most often the following types are distinguished:
1. Strawberry – bright red spots that look like strawberry berries are under the baby's skin.
2. Pinch or stork bite – specks resembling a bite mark or a pinch. Their name is associated with the legend that the spot is the place for which the stork held the child when he carried it. Usually such spots occur in children on the back of the neck. When these spots are located on the face of the baby, they are called the kiss of an angel.
3. Hemangiomas – benign formations, which in turn can be of various shapes, colors and appearance.
4. Wine stains – dark cherry spots that occur in a child immediately after birth or during the first weeks and remain for life.
5. Moles and freckles (age spots) – The most common of birthmarks that can appear and disappear throughout life. I will not describe their appearance, because I believe that almost everyone is familiar with them.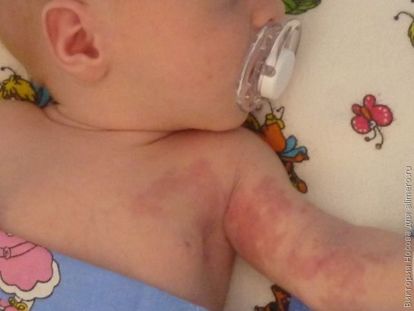 The decision on what to do with such stains should be made by a specialist. I would not advise parents to take any action without consulting a doctor.
To date, various kinds of removal operations are carried out, but you need to be sure that this is really necessary. Before making such a decision, you need to carefully weigh everything.
My baby's birthmarks
Of all the varieties of my son on the skin there are two types of birthmarks – hemangioma and stork bite. They appeared on the body of the child immediately after birth. About hemangioma I wrote in detail earlier.
Let me just say that it occupied a significant area on the body of the baby, so I was very worried. But the pediatric surgeon, in whom we have been under observation for more than a year, reassured me. She felt that no intervention was needed, the specks should disappear with time. Indeed, the spots become more and more pale with time.
Another spot – the stork bite – is in the child on the back of the neck, near the edge of hair growth. Indeed, it seems that the stork carried him by the scruff. This spot is pale, it is not visible when the child is calm. But when he is worried or starts to cry, the stain turns red. By the way, his grandfather also has an absolutely identical bite.
And in your opinion, where do birthmarks from children come from, and do you need to do something with them?