Surely the first bathing of the baby made many parents nervous. How to bathe? Will I hurt my baby? How to support the baby? All these problems are designed to solve a special circle, which is fastened around the neck of the newborn.
I know many parents for whom bathing is a whole process. I can not say that I, too, was easy to do, especially in the first weeks. Although I have a second child, I was always afraid to drop the baby. And it is also very inconvenient to wrap a child in a towel when he is still not holding his head. I'm not talking about the poor back, which begins to fall off when you have to curl over the bathroom in an uncomfortable position.
Circle – Benefit for Parents
I think that the circle was designed primarily to facilitate the lives of parents. It is an inflated horseshoe, which fastens on the back of the neck of a newborn. With such a device you can let the child in the water, he will go over with his feet and hands, and make swimming movements.
You no longer have to hold the child in your hands every second. You can watch it splash or calmly wash it.
Before use, the circle must be inflated and inspected for damage. There are instances with a ringing toy inside, this one can be given to the baby, so that he becomes interested in the sound, and at the same time gets used to it.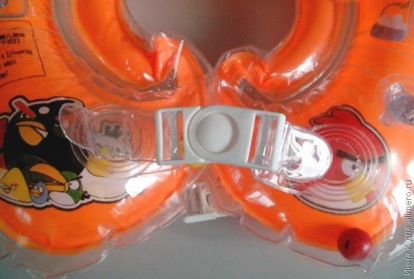 Next comes the hard part. Imagine a newborn who has no neck. Where to cling circle? We tested it for the first time together with the eldest daughter and for a very long time could not even fasten the velcro. It was scary to damage something. When the circle is worn, you need to make sure that it sits tight, and the fasteners are firmly buttoned.
Remember that even if your baby bathes merrily in a circle, you cannot leave him unattended. Also, make sure that the fasteners are secure, so that the child does not slip out of the device. And I would advise first to talk with a neurologist and find out if there are any contraindications to its use.
I learned about such a circle long before my youngest daughter was born. And really wanted to buy it. It seemed to me that it would be useful for a child to swim in a large bathtub on their own. And I heard a lot of positive feedback about him. At about 1 month we bought it and decided to try it.
Somehow buttoned, lowered into the bath. I can't say that my daughter had a delight in her eyes. She just hung out in one place. We gurgled a little around her with water and pulled out. Then this whole process began to seem unnatural to me. After all, the child hangs on the neck, and what if we damage something?
The neurologist only reinforced my doubts. The doctor advised not to experiment with the circle and if you want to swim, enroll in the pool. What we did later.
Did you use the circle for bathing a newborn?