I clearly remember my bewilderment when relaxing with children at sea, I saw a young daddy who was waving his little child like a doll. We walked along the beach with my husband and almost turned my neck, looking at them – dynamic gymnastics with a very tiny baby looked so scary. Someone would call it baby yoga, someone dynamic gymnastics – but the essence is still the same.
Standard parents are accustomed to protect their newborns, to care and nurture, to close from the wind and cold. And while doing exercises, young mothers and fathers are extremely careful – this is a baby and it is so scary to harm him. However, there is a different point of view, which adhere to the supporters of baby yoga. I propose to watch the video instructor in children's dynamic gymnastics.
This video excited many parents: someone did not believe that this was possible, someone tried to prove that we ourselves from early childhood do not allow children to realize all their opportunities. That thanks to baby yoga is revealed as physical, as well as psychological potential in children.
They become strong in all respects: children grow confident in themselves, all muscle groups develop, the necessary tone is maintained, the vestibular apparatus becomes stronger, the kids begin to crawl, sit, talk and communicate more readily with the outside world.
Masters practicing dynamic gymnastics strictly follow the technique, starting with very gentle exercises, moving on to more active and complex. At the same time, they do not recommend to parents without professional skills to follow their example, otherwise there may be stretching and deterioration of the child's well-being.
Opinion doctors
However, the opinion of many doctors is quite different. They believe that a newborn should go through a calm adaptation to a new world, that the baby suffers from the stress that he received during childbirth and should not injure his psyche by excessive loads.
In addition, before starting any active gymnastics, you must obtain permission from a neurologist, pediatrician – to pass the necessary tests and conduct examinations. After all, if the child will have congenital pathologies of internal organs, such charging can only aggravate the situation. And parents often forget about it.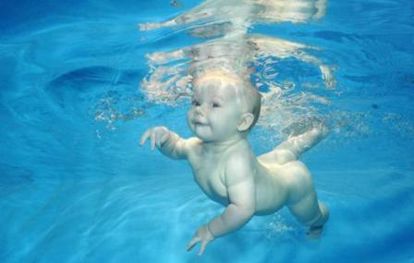 My opinion
For me, as a mother of two children, even if I had given a hundred reasons that it is very useful, it would still be scary to give my child to such a dynamic gymnastics. No matter what a professional does not engage in baby yoga, there is always a human factor, and having committed a mistake, the kid will get hurt.
Gymnastics, physical education, massage – all this should be, but in moderation. Exercises should be gentle, because a newborn child cannot yet say whether he likes what is happening or not.
What do you think: the children's body is perfect and you should not be afraid of dynamic gymnastics or is it a game with fire? Would you give your child to classes with a baby yoga instructor?