Every mother is familiar with the problem of washing the baby's hair. Not every kid agrees to carry out this necessary procedure without tears, and the shampoo, which irritates the mucous eye, is to blame for this. For us, this problem was also relevant.
When ordering cosmetics for myself from the online store Recipes of Grandmother Agafya of the trademark The first solution, I drew attention to the children's line of this company. Making sure from my own experience that the cosmetics of the First Solution is of high quality, I made a purchase for my child.
Description and composition of the product
I bought MamaBaby shampoo for the price of 55 rubles. The volume of the bottle – 300 ml. The manufacturer writes that the shampoo does not contain dyes, parabens, sodium lauryl sulfate and other harmful components. Natural components soften water and gently cleanse children's hair.
Among the active ingredients are organic extracts of calendula and soapwort, as well as organic peach oil. Every time I buy something from cosmetics and hygiene products, I carefully study the composition, and was surprised to find no artificial ingredients among the components of the shampoo.
The only thing that alerted me was the presence of Magnesium laureth suifate. Although they say that this component does not bear such harm as Magnesium lauril suifate. And he was closer to the end of the list. As I understand it, without this component, the shampoo will not foam well.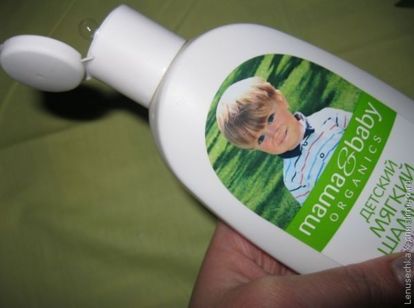 Advantages and disadvantages
The advantages of this wonderful shampoo can be listed for a long time. He really doesn't sting his baby's eyes. Hair after using this shampoo is soft and fluffy, easy to comb and less confused. The shampoo foams well and gently washes the hair.
The texture of the shampoo is gel-like, thick. Color – transparent. The shampoo has a very pleasant, light and unobtrusive floral scent. Despite the fact that it forms a lot of foam, it is washed off from the hair without much effort. Thanks to convenient packing and density, it is spent very economically.
For several months of using the flaws, I did not find. My daughter agrees to wash hair with pleasure, and this is the most important for me. Unfortunately, it is not in free sale in our city, so you have to order through the online store.
Perhaps you used a children's line of cosmetics The first solution and can share your impressions.