During the first year of the son's life, we tested three devices for carrying: a regular kangaroo backpack, a fast sling and a sling with rings. Not everyone liked us the same way. There is a lot of information about slipwear on the Internet right now. But I love to try everything myself, in my own experience – it happened with sling and kangaroo.
Even if I make mistakes in my choice, I am not upset, but I draw conclusions for the future, because I plan more children.
I can not call myself a staunch slingomama because I would not be able to do without a wheelchair. In our situation, the stroller was very convenient for many hours of walking (we live near a beautiful park and almost on the embankment of the river) when there is no need to climb stairs or move in transport, when the husband is at home and can help lift and lower the stroller.
But if I am going to visit, shopping, planning a trip on the bus, then I just can't imagine how I would have done without a sling. I overcome many steps, not always with ramps (or with uncomfortable ramps made for a tick), I save a lot of time, and I just feel like an independent person who can always get together and go where he wants.
In addition, the son has never cried and was capricious during a trip to his mother. He, on the contrary, is always interested in being a full participant in what is happening. And even more often – he just peacefully slumbers.
Our first purchase is a kangaroo backpack.
Until the child was 4 months old, we did not even think about this purchase. Still, the spine is still not strong, and our baby still had a poor back in 3 months (with which we successfully managed, thanks to physiotherapy and massage with physical therapy). In addition, the son was born in November, and the first months of his life there was a very cold winter outside. We rarely went outside, and if we walked, it was only in a carriage with a warm cradle.
And when the baby went for the fifth month, I accidentally bought this kangaroo at the children's goods store. It was absolutely simple, locally produced, and it was very inexpensive, which I flattered. Then I did not think to buy something for long journeys, but I wanted a simple device for one-time, non-durable outings: in a clinic or a store. It was March in the yard, and the weather allowed us to leave the house more often.
I liked the fact that in this kangaroo it is possible to place the child both face-to-face and back. The son loved this situation – facing the street and passersby, he looked at everyone with interest. But the advantages of this backpack ended.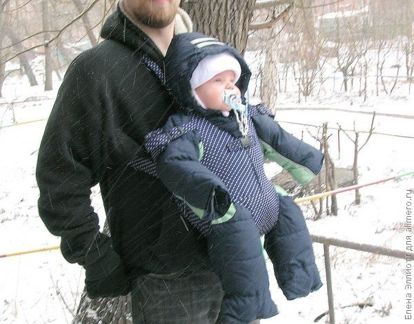 Although I am not a doctor, I understand that for a child to hang like this is not very useful. The weight falls completely on the crotch, and you can't call such a pose physiological.
About my shoulders (and husband), I generally keep quiet. At the kangaroo on the back, in the area of ​​the shoulder blades, there are intersecting straps, there we have all the weight, and after half an hour of staying in it, the neck and shoulders even at our far from weak dad ached for several more days. It is unlikely that the thickness of the straps (as in more expensive, but similar models) radically changes the situation. As a result, we used it 3-4 times, and then removed away in the closet. Throw it while somehow sorry.
I can not imagine how this can be at all comfortable for parents. But it turns out that there are fans of such torture instruments. Already later in the summer, when we had a very convenient fast sling, during walks and trips to the store and to the post office, I often saw a mommy with a child (as our son did) in a very similar kangaroo. Maybe she just has iron shoulders, and she absolutely does not feel sorry for the child's spine. In general, such kangaroos would not advise anyone to buy, although they are mostly represented in stores.
The second acquisition – fast sling (sling-backpack)
In early summer, when my son was 6.5 months old, I saw a fast sling in a store. In the pictures on the Internet I have seen these before, so he immediately interested me. The kid was with me, and I decided to try this wonderful carrier right on the trading floor.
It is worn very quickly, due to fastener fasteners, and the weight of the child is almost not felt due to the fact that it is distributed evenly – all over your back and waist. In addition, the baby does not hang, as in a kangaroo, but as if it embraces you with arms and legs – an absolutely physiological posture. Naturally, we immediately decided that we were taking this sling.
He has two variants of wearing: the child is in front, his belly is pressed to you. Or a child in the back, as in a backpack, again with a tummy to mom / dad. We often used the first option. The wearing of this sling reminded me of my recent interesting position: the same hindrance to look at the legs of the tummy and the same penguin gait. That is, sometimes tired legs, but the back did not hurt at all!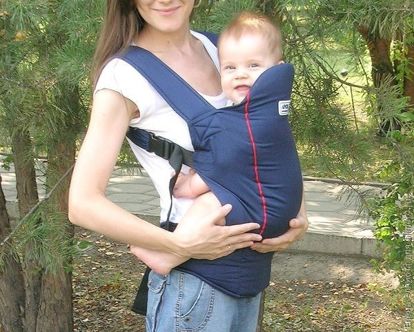 With this baby sling, I became an even more active mom. I had both hands free, I felt like a light, fluttering bird. With him, we even made 5-6-hour outings to the shopping center, the child (weighing 10 kg) was on me all the time, and I practically did not get tired.
We pierced it from June to October. In the heat it was, of course, not very comfortable, since we were closely pressed to each other, so on such days I tried not to abuse the sling. But on cold days, on the contrary, it was very convenient: the child can be dressed easily, and on top (on herself and the baby, respectively) put on a large sweatshirt, or a special sling jacket. I even had the idea to buy a sling-jacket for the winter, but before the cold we had a fast sling did not live.
Furniture let us down: fasteks on the sling began to crack and break. Whether the coming cold so affected the plastic, or the mount just could not bear the weight of our baby elephant. I wanted to buy the same metal ones and alter them, but even in specialty stores, fastexes of this size were only plastic and were even worse in quality than ours.
Third purchase – ring sling
Having gone back to the store, I noticed what I had previously considered uncomfortable – a sling with rings. However, now the thought flashed through my head: Metallic rings, dense fabric, denim. There is simply nothing to break! And again, the experimental spirit required to try something new.
This sling has 3 variants of socks: on the side (on the thigh), in front facing the mother (with divorced legs) and cradle (for very tiny babies). Son and this sling took a bang. I, of course, are not so comfortable with him, due to the fact that the weight (already quite large) falls on one shoulder. And no longer both hands are free, since one has to hold the child.
But he is reliable. And now, in the winter, I don't dare to go for long walks. So, sometimes, we go out together on business.