Very often I hear from my girlfriends that their children are sleeping, horrible. During the day, they can sleep 2-3 times, and then the night's sleep shifts to 23.00-24.00 and even later.
I am truly sorry for both my friends and their little ones. Itself through this passed. But I learned to control the baby's sleep.
At first, somewhere up to 3 months, it was unreal. Constant pain in the tummies did not allow the baby to fall asleep at the right time. And if she succeeded, she could wake up in the middle of the night and stay awake for 2-3 hours. It was a nightmare!
I confess that such nighttime wakefulness, which is accompanied by carrying the child in her arms, is very exhausting. But what to do? In the first months I did not see the exit. And now, with the experience that has appeared, I think I would have failed.
Therefore, if I hear about problems with sleep in very young children, I feel fine about it. But when I am told that they cannot cope with sleep in children closer to the year, I am surprised. I solved this problem.
The most important thing is to watch the baby. If you see that he sleeps during the day 3 times and falls asleep normally in the evening at 21.00, then everything is in order – the dream is organized correctly. If you see that the night sleep has shifted, it means that the third daytime sleep is disturbing the baby, it needs to be removed. To do this, the remaining 2 sleep should be laid baby later.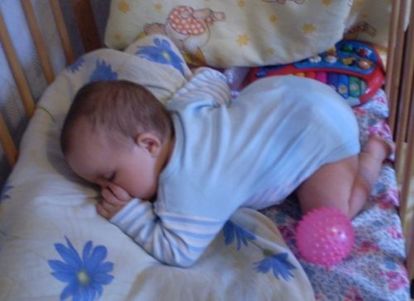 It is also important not to pay attention to generally accepted concepts. For example, at 11 months we switched to 1 day's sleep, because the second one began to interfere with the nighttime. Everyone was shocked! It is believed that almost up to 1.5 years old baby should sleep 2 times a day. But what's the point of following this standard regimen if it is impossible to calm and put the child to bed in the evening?
I began to use this technique from about 5 months. And since then, we have never had any problems with sleep. Exceptions were only during illness. But in this case, I think, to cope hard. Although, if anyone has their own secrets – share!