This bedding causes a lot of controversy. At what age does a child need to sleep on a pillow? Which pillow is better to choose? Does she need a newborn? These questions torment many moms, and I am also no exception.
Almost immediately after the birth of the baby, we got two pillows for sleeping. But we didn't have to choose them ourselves, since they got them as a gift.
The first was quite popular orthopedic pillow with synthetic filler, which can be found in any children's store. It is recommended for use by children under one year old.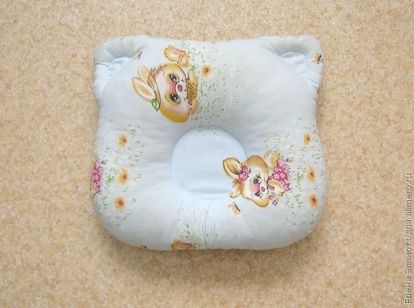 The second pillow, of absolutely normal form, was bundled with a blanket, which we used to discharge from the hospital. Camel's hair is used as a filler both for pillows and blankets. This material is natural, eco-friendly, and its plus is that it breathes very well.
Types of baby pillows for sleeping
The stores now have such a variety of pillows (for both newborns and older children) that the choice is sometimes very difficult.
Manufacturers are vying with shouting that it is their pillow that is the safest, will ensure a comfortable baby's sleep and help to avoid many health problems. And yet I have doubts: do they really care about the health and convenience of babies, or is this just another trick to lure money from their parents?
Among the most popular materials that are used as filler for baby pillows, you can call the following:
– Latex. His plus in absolute naturalness and hypoallergenic. Such a pillow perfectly keeps its shape, which is useful for the muscles of the neck and shoulders. It does not absorb unpleasant odors. By the way, I myself have been using the latex anatomical pillow for several years, so I trust this material. The only negative, perhaps, in the high cost. But latex pillow will also last for a long time: at least 10 years.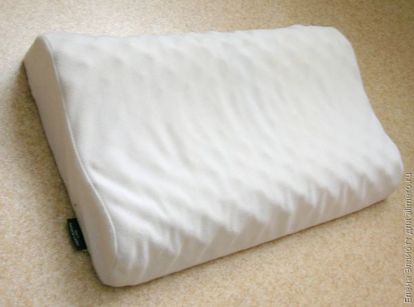 – Natural down and feather. These pillows are becoming less popular, as they can cause allergies. Also they love to settle household mites.
– Synthetic fillers. They are hypoallergenic and not very expensive. Just take care of them, they are easy to wash. But synthetics will not breathe, and this is a minus.
– Buckwheat husk is also very widely advertised as a filler. Neither I nor my acquaintances used such pillows, but according to advertising, this material is just a godsend for children's sleep. It is hypoallergenic and hygienic, it is well ventilated and breathes. Such a pillow will relax the muscles of the baby, allow blood to circulate freely.
In form pillows for sleeping are also different. For example:
– Orthopedic butterfly pillow. That's what we have. In the middle she has a recess for the head of the child, and along the perimeter – a soft roller that supports the muscles of the neck.
– Pillow positioner with rollers on the sides. With her, the position of the child can be fixed on the back or on the side. What, according to manufacturers, ensures the safety of the newborn.
– Inclined pillow across the width of the bed. Her slope is usually small – 15-20 degrees, and it is designed to help children with frequent regurgitation or ease their breathing during a cold, when the nose is stuffed. It is safe and will not cause suffocation, as it completely merges with the surface of the bed, it is recommended to put it under a sheet or mattress.
Do I need a pillow for a child of the first year of life?
Practically all doctors, with whose opinion I am familiar with, claim that they are not needed. And it can even be dangerous. But why, then, are all the cushions that can be used almost from birth? If you believe advertising, then without a pillow, a child just has to develop some defect in the neck or skull, and he will never be able to get a proper rest.
I still think that without any particular indications and diseases, just for prevention, a small child does not need a pillow. And to strengthen or relax the muscles more effective gymnastics, massage or physiotherapy.
Despite the presence of the very orthopedic pillow, we practically did not use it. I was embarrassed by what many consider a plus for this pillow – it fixes the head of the child in one position. It seemed unnatural to me.
Rather, we used it, but not for its intended purpose. In the summer, I placed it under my son's back when he was sitting in a stroller. We have not grown to the second pillow (with camel hair). I plan to use it no earlier than in a year or two. And maybe later.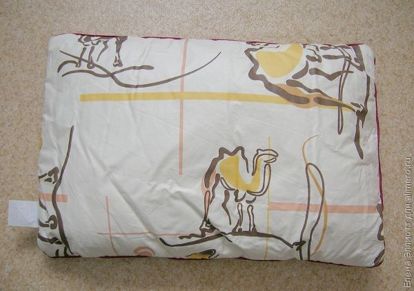 And in bed, under the head of my son, I from birth gave birth to a regular diaper, folded several times. This is how I turned out to be a conservative. I decided to use the old, grandfather's method. During this time, we were visited by a pediatrician, a visiting nurse and a masseuse, and everyone agreed that this was enough for the kid.
But since our bed stood along the wall, so that there were no problems with the shape of the head and neck muscles, the doctor recommended to shift the child every day to the opposite side. Thus he watched us, now looking to the left, then to the right.
Now his son is a year and two months old, and now he sleeps on a sheet only. The fact is that at night it began to turn awfully, sometimes it could turn around 180 degrees. Yes, and prefers to sleep on his stomach.
Recently, I read the opinion of doctors that a child even up to three years old can safely do without a pillow.
What do you think: at what age is it better for a child to sleep on a pillow? What are the most useful and comfortable pillows for your baby?