Now every second child is prescribed a massage. When I was talking to a pediatrician about a massage course, or rather, offered to go at will, I was somehow skeptical about this proposal. I was still not an experienced young mother and didn't understand at all why such young children needed a massage.
Why do I need a massage?

My skepticism was further strengthened by the fact that our friends, who already had two children at that time, told us that massage is a punishment for a child and a test for parents, since the baby constantly screams and cries from pain. And if you do a massage, then only by super necessity.
But then we went to the hospital, and a couple of doctors also recommended that we undergo a course of massage, since we had hypertonus. That is, the muscles were too tense.
When I just brought the child from the maternity hospital, seeing how his hands were folded into fists, and my toes were tucked in – I took it for granted. After all, all the babies I saw are like that. Of course, I started massaging my palms to him and opening them little by little, constantly massaging my feet when they were within my reach. This was done purely intuitively.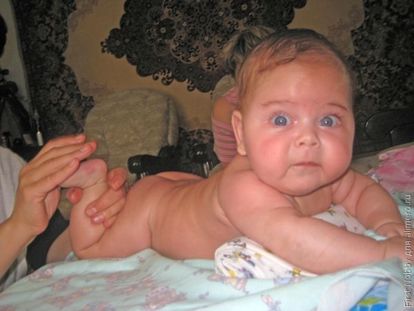 And so, after the hospital, we decided to undergo this massage course, having decided that it definitely would not be superfluous. A masseuse came, which we were advised. And from her I learned a lot of interesting and new things that I did not even know from the same doctors.
She immediately determined that the child had hypertonus. And while he was massaging, at the same time she explained everything and told. What surprised me was that the masseuse at first found an approach to the child, carefully and slowly uncoupled the section, put it as needed and then began the massage itself. And I was waiting for the screams and the painful reaction of the child.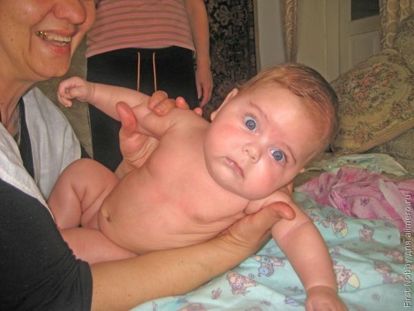 To my question — she answered — that this is the best indicator of the professionalism of a child masseuse. That the child in no case should cry, or somehow feel uncomfortable. Since, in this case, there will be no benefit from the massage, because while the child cries, resists, all the muscles are in tension, and they should be relaxed.
My three-month baby lay and enjoyed, and I am at the same time. After the course of massage, we were promised that there would be a leap in development. During the massage, she showed me exercises in order for the child to turn over from the abdomen to the back and back. We certainly turned upside down before that – but it was something rather random.
Baby development

My well-fed baby began to keep his head quite confidently, to lie more on his tummy, although he never liked this activity, and the exercises themselves with developing reflexes of walking, pushing and setting pens forward when falling — he even liked and caused laughter.
After that we went through two more massage courses. After the second, we immediately began to sit. And after the third, we started walking almost immediately, it was aimed at developing the feet, and strengthening the spine.
After the massage, we had gymnastics classes, they were held with a fitball, and the reflex of putting the handles forward when falling was just practiced. I remember how my mother was indignant at what a child was taught to jump down from the ball. As a result, my baby developed a reflex that many times saved us from broken noses, and in general from facial injuries.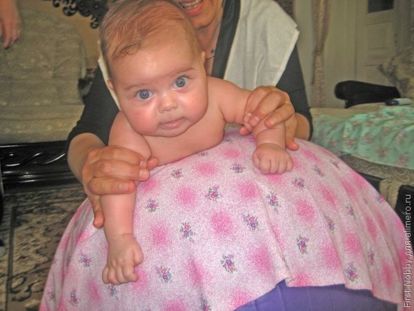 DIY Massage

Now, from the first days I will begin to do massage with a second child, a simple one, stroking, light pressing, developing pens and legs. It is not difficult, and such a light massage can be done every day when the child is fed, slept and calm.
It is necessary that at least half an hour has passed since the last meal, it is important to do it with warm hands using butter or cream. And do it upwards, from the feet to the waist, from the hands to the shoulders, from the bottoms to the neck, and massage the tummy only in a clockwise direction, and do not touch the heart area.
Also, I learned from a masseuse that the only time when the children are not tense fingers and toes is when they are in the water. There the muscles relax and rest. And we began to spend even more time in the bathroom. Baby liked it.