In a week my daughter will be a year old! How quickly time flew by, I did not even have time to look back and we were already big girls! I decided to organize the holiday only for the closest. And each of the invitees asked me one question – what to give the baby?
I decided to approach this issue responsibly, because I really wanted the gift to give pleasure not only to me, but also to my child.
What you should not give
For a start, I made a list that we absolutely should not give. I took the toys to them – we had a huge amount of them in a year! And you need to understand that some toys scare children, others are not suitable for him in age, others are made from low-quality materials or simply are only carriers of dust, and the fourth are simply life threatening.
In addition, great pleasure is now brought to us by games with a banal TV remote control, my mother's phone and various books. Therefore, in order not to risk and offend loved ones, I carried the toys to the blacklist.
Then I deleted the clothes from the number of gifts – that's something, but this gift is exclusively for parents. The baby will not be happy with the new blouse or pants, I was sure of that. Well, of course, all those things that we already have got on my list and their use just comes to its logical conclusion – playpen, chaise lounge, stroller, walker.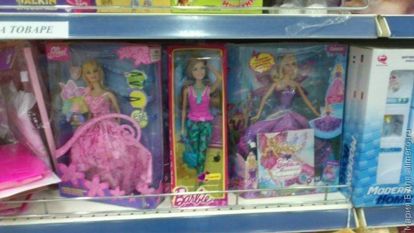 What can you give
Then I began to observe our peers, and here are the conclusions I made. One-year-old children like wheelchair toys or wheelchairs. They can run around with them endlessly, and also improve their walking skills. Therefore, this position was the first in the list of my orders.
By the year a child begins to actively explore the world, and he no longer wants to sit on a walk and, moreover, lie in a wheelchair. Therefore, the second in the list of gifts was a tricycle. I looked at the other kids and, indeed, I saw an indescribable delight on their face when they were being taken not in a wheelchair, but in such a bicycle.
When my baby and I came to the playground, I saw that she really loved the swings, and she swayed on them with pleasure. Therefore, my husband and I decided that home swings will be very useful to us for a variety of leisure activities of our baby. Therefore, they also quickly entered the list.
Well, in the end, we thought about the development of our child. After all, this age is the most beneficial in order to lay in the baby all the necessary skills. Therefore, we decided that kits for creativity, various developmental aids, developing cubes and a pyramid would be useful gifts. Of course, here again we made a correction for the quality and relevance to the age of our daughter.
The list turned out to be quite decent and each of our guests will be able to make a choice of a gift according to their capabilities. Therefore, today we are looking forward to our birthday, to see whether we are mistaken in our judgments or not!