Today, only lazy does not know that foot massage is useful. If for an adult, foot massage is more of a pleasure, a way to relax, then for a child it is an opportunity to strengthen the musculoskeletal system, improve blood circulation and increase muscle tone.
My eldest daughter had no problems with her legs. Hip joints were diagnosed with dysplasia, but then it was removed. Foot massage, we did with it more in order to indulge and not get healthier.
But at the younger in 6 months revealed flat-valgus feet. Plus she had a weak muscle tone, because of which she went late. In general, we could not do without a massage. Once we had a foot massage in the clinic, the second time paid at home. And of course, I myself was engaged with the child.
Features of children's feet
I was always touched by children's feet. Such plump and smooth. Foot in a child of the first year of life seems flat. The vault is not yet formed, it is hidden by a fat pad. Sometimes it seems to mom that something is wrong with the child. Therefore, to exclude diseases associated with the musculoskeletal system, you should regularly undergo examinations at the orthopedic surgeon.
Massage up to 3 months
You can start a light massage without waiting for a consultation with an orthopedist. This thing is useful for any child. Therefore, support the leg by the shin and gently stroke it. On the foot, you can draw a figure eight with your thumb. When pressing on the upper part of the foot, the toes of the baby should bend, and when pressing on the heel, the fingers open. Watching this reaction is fun.
Duration of manipulations – 1-2 minutes.
Massage from 4 to 7 months
Gradually, other techniques should be added to your foot massage: vibration, kneading, tapping, etc. Begin the procedure with stroking the foot, then you can gently rub it. Gently finger tap on the foot, it will improve blood circulation. The duration of the manipulation is increased to 5 minutes.
Massage from 8 to 12 months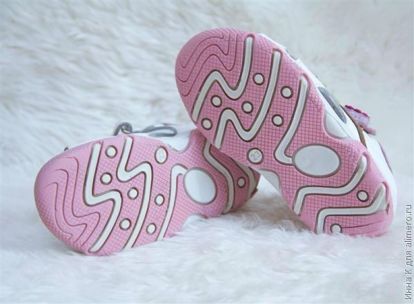 At this time, the baby's legs are getting stronger, and your child will not want to sit still on the spot. I used to put my daughter on the bed and distract me with toys. We begin the procedure with stroking, kneading. Kneads not only the foot, but also the shin and thigh. You can try to gently twist each finger clockwise and against, left-right. Again, tapping on the heel and the entire foot with your fingers.
In the clinic, we did a massage for about 20 minutes, but at home for so long, the daughter did not want to sit.
Even if your baby is fine, find a couple of minutes for the daily massage of the legs. This is both pleasant and helpful. The procedure is performed for a healthy child when he is not hungry (but not after eating) and does not want to sleep. A couple of hours before the night's sleep from the massage is better to give up.