In the first year of my baby's life, I learned what colic is, how teeth are cut. We also had an allergy to cow protein, a cold after visiting the pool, after inoculation our leg swelled and we were bitten by mosquitoes.
Of course, every experienced mommy knows how to help her child, but I want to share the composition of the first-aid kit that we have formed during this time. These preparations are always at hand with me, and I always take them with me when we leave for a dacha or stay with parents.
When we were tortured by colic in the first months of life, Plantex dill water helped us a lot, and at night we drank Espumizan for newborns.
By the way, for some reason, very many children like Plantex – we still drink it today with pleasure. And Espumizan always helped my daughter fall asleep at night during this difficult period. Until now, these funds occupy an important place in our first-aid kit.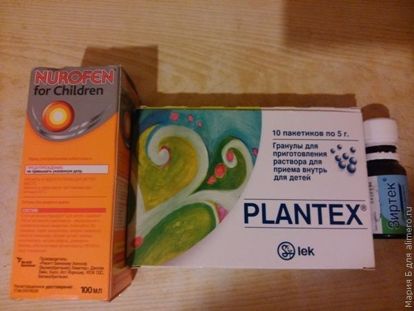 Our next test was the teeth – we had high fever for 3 days in a row, the gums were very sore, and our daughter became very capricious. From temperature I always keep Nurofen for children in the form of a syrup close at hand. He always rescued us, the temperature decreased, and the child felt much better.
And I still use gums with Calgel. I do not abuse it and use it only at night and during the period when teething causes particular discomfort for the child.
After going to the pool, we managed to catch a cold. We had a terrible runny nose, red throat, and then another fever. To help my daughter breathe, I cleaned her nose with a suction tube, Nas Bebi was dripping, and we were treating the virus with candles. And now every day I wash the spout Aqua Maris with sea water – it helps us a lot.
We survived vaccinations quite well, but the second time we had a seal at the injection site. Fenistil gel helped us a lot – literally in a few days the swelling was asleep. Today Fenistil is still in our first-aid kit – it very well relieves the itching after the bite of mosquitoes that we encountered when traveling to the cottage.
When we started giving cottage cheese to a child, we had a terrible allergy. As the doctor told us, this is a reaction to cow protein. From allergies, we drank droplets of Zyrtec, and also cleansed the body with Enterosgel. As a result of treatment for 10 days, all the redness from the skin was gone, the daughter stopped itching and we returned to normal.
By the way, to help irritated and very dry skin, I smeared my daughter with Emolium cream – the very next day the skin condition improved significantly. Now he, too, is always at hand with me.
As you can see, our first-aid kit is relatively small. And, of course, I never self-medicate and, with any changes in my baby, I call a doctor. But situations are different, and sometimes emergency assistance is required for the child. Therefore, today I am always ready to react to pain with teeth, colic, and temperature. And this my set of tools always helps us out in such situations.