Baby cream is usually used to moisturize and nourish dry and scaly areas on the tender skin of a child. So, for example, my daughter needs extra skin on her hands, because, firstly, she often washes them, and secondly, she touches a lot of things – from snow to sand.
In addition, during the cold season, due to constant contact with clothes (panty hoses, sweaters), the skin may begin to peel off, and even frost cheeks suffer from frost. That is why children's cream is always in my arsenal.
In more detail about the series of Belarusian cosmetics Mom and Baby I wrote in the previous review. To be brief, this is a line of skin and hair care products for both baby and mother.
All cosmetic products are hypoallergenic, are thoroughly tested and can be used from the first days of life of babies.
Description and composition
Children's cream with D-panthenol and chamomile from Vitex – the second agent in the series Mom and Baby, which I purchased. Like most children's creams, it moisturizes and nourishes the baby's sensitive, dry-prone skin, prevents irritation and redness.
Importantly, this tool also has an anti-inflammatory and healing effect due to the presence in the composition Panthenol. This item is important for the daughter, because she often has damage to the skin – burrs, scratches.
Also among the ingredients:


– mineral oil (Mineral Oil)
– shea butter
– apricot kernel oil (apricot kemel oil)
– coltsfoot extract (tussilago farfara extract)
– wheat germ oil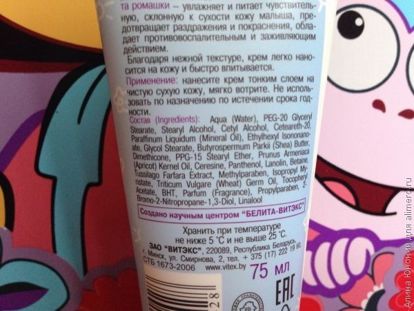 The only misunderstanding for me personally was the absence of chamomile in the composition, even though it was declared on the front side of the package. However, it is possible that the manufacturer used a substance based on it, which is called differently, and not Chamomilla.
The cream has a delicate neutral smell, the manufacturer did not overdo it with a perfume, which is important for delicate baby skin, which is prone to allergic reactions.
The product is completely non-greasy, easy to apply and very quickly absorbed without leaving any greasy residue, film and odor. The cream is used quite economically – a small amount of it is enough to moisturize a large area.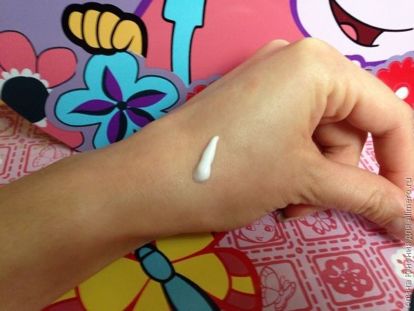 With daily use, after a few days, the handles, which were previously dry and even rough in some places, become smooth and tender.
Ordinary packaging – soft tube with a screw cap, capacity 75ml. Despite its low cost (40r. or 10 UAH.) the cream is in no way inferior to its imported counterparts, for example, similar products from Bubchen, Sanosan or Chicco.
I definitely recommend Children's cream with D-Panthenol and chamomile from Vitex, although the presence of chamomile remains an open question in this case. The cream is perfect for toddlers and children of preschool age, and sometimes I use it for hands, and the effect is very pleased.
And what kind of baby cream do you use?