I can not believe that he is already a year and five months. He is already so big, intelligent, and he can do so much, and when he took out his first little man, he fell into a stupor, the difference is huge, although it seems that only yesterday they left the hospital.
Physical indicators
According to the doctors, we were born at indicators just below the average child and now we are not losing ground. A year and five months according to the norms should weigh 11,500 g and with an increase of 82 cm, while Dani's weight should be 10,800 g and an increase of 80 cm.
The main occupation now is the conquest of all heights, and the higher and harder – the better. I am already riding on a low hill, I am standing next to it only for safety in case of anything.
Speech development
So far this is not our forte. He can say, there are about 10 words in the arsenal, but he does not want to do this, he is simply not interested. We had it with a seat. I didn't want to sit and crawl — yes, walk — yes, and sit — no.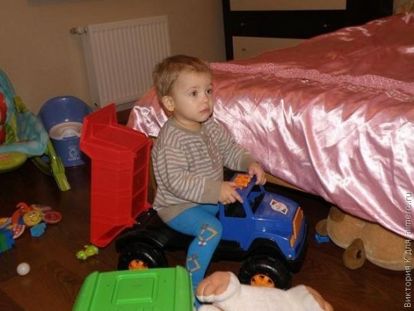 So with the speech, he is not interested, but I do not force. True, after his constant mooing towards the end of the day, his head aches terribly.
Earlier, when I asked to bring a bottle for example, he understood what I wanted, but could not find it, but now the memory has developed and he brings it from the place where he left it. And in general, now, that do not say it, understands everything as an adult, and at the same time, the view has changed, perhaps it is more conscious.
Cultural and hygienic development
He himself is trying to brush his teeth, but so far without paste, he does not understand how to spit. He eats almost already, without spilling anything or sprinkling from a spoon, but he tries to drink from a cup, but half of the liquid is on the tummy.
We are not friends with a pot at all. Then he was afraid of him, and now he plays – puts it on his head, gets his feet into it or puts cubes there. So, he again stands in the storeroom for a while, but if the son pokes, Fuuuuuuu comes and says.
Another son is very interested in things. If he finds any thing, he will definitely put it on. And I was surprised that at once the tights or pants are dressed properly, each leg separately.
Removes only himself. If you get dirty, then a rag and a towel should be near. The table will wipe, mouth and hands, too, and if on the floor – then a broom with a shovel in his hands. True, after such an assistant, a neat little job is even more work, but I praise him and kiss him for it. To wash the floors, vacuum, dust, wash – all just with him and try not to call.
The father and the grandmother, the uncle or the godmother recognize the voice and the phone. He misses them a lot, and when I talk about the arrival of some of them soon, there is no limit to delight.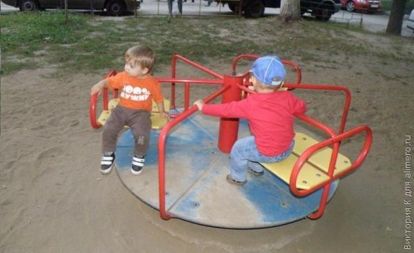 Previously, he even tried to stay away with familiar children, was less sociable and had to adapt for a walk, it took 15-20 minutes, and now he is playing with them, sharing toys or taking them, but strangers are still avoiding and immediately hiding behind me.
Cognitive development
My son is quite a clever boy, but he will learn only according to his mood, otherwise he will fly everything in different directions, including his mother head-on.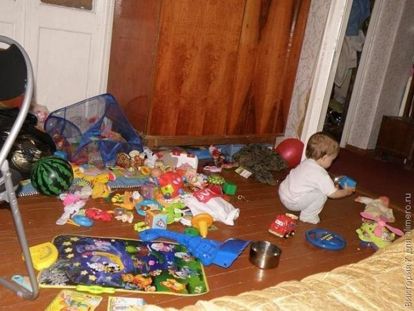 Pyramid cubes already folds eyes closed. Now I am very interested in the designer and sorter with different figures.
Another love for books has returned. A day cannot pass without books, he reviews about 15 pieces at once, less is not enough for him. When he looks, he comments on himself. Still does not like fairy tales, they are long, he likes quatrains and pictures.
Since its crawling, the most favorite place is the kitchen. Pans, pots, spoons, scoops, everything goes. Now, when he can get everything up, the new development begins.
As I wake up in the morning, but he is not in sight. I, of course, was frightened and ran to look around the house, where did he go. Found in the kitchen, he sat and grated cookies on the grater. I thought with laughter fall. So we learn more and more new items, and it's impossible to hide anything.