Once upon a time, when I was still at university, I definitely made the decision for myself never to buy second-hand things for myself or my loved ones.
History of my fears
This decision came to me after talking with one of my teachers. The discipline he taught was extremely boring, and he spent all his free time lecturing on stories on the topic on which he was writing his dissertation.
The theme was related to the energy of things, the human biofields and its transfer through things. This refers to both textile items for wearable socks, and things of everyday use.
He cited research data and life stories. The main point was that each of our worn items has our biofield, with our diseases and problem organs. Having put on the thing of a sick person, we eventually take over his biological field with his illnesses.
And where do things in second-hand come from? – he wondered. – It is likely that they belonged in part to deceased people who were sick with something and now their biofield may adversely affect the next owner.
Things used for baby
And of course, for me it could not go and about second-hand things for the baby. I decided for myself once.
When I got pregnant, my mother-in-law brought me big bags of baby things. My questions come from where things are, she was offended, seeing in them a reproach that she collected them in the trash. I did not get a sensible answer from her.
Also, friends gave me the things their grown-up children. I stored all this good and did not plan to use it.
What life has shown
Before the very birth, my mother and I bought several clothes for a decent amount of baby clothes. I gave birth in the winter and things were needed warm and natural. Envelope, hats, warm little people.
In addition, a new stroller, bed, chaise, mobility, etc. were needed. Money flew away with great speed. And the baby grew quickly and after two months I put my bag of used items in the closet.
Things were worn, but in good condition. The newborn baby did not have time to put on some even a couple of times.
At that moment, I realized that children's things, at least some of them, have a huge socks and can be safely used by several children.
In contrast to the horror stories about second-hand from my teacher, children's things are given or sold because of the natural increase in size of the baby. And, if I know what kind of baby wore them, and I see that he is healthy, then why not save and not use the thing after him.
Most recently, I bought a used baby carrier, a used winter jumpsuit, a used baby highchair and a used baby walker. And with might and main I use the things of the children of my friends, after having previously washed them in the washing mode at 90 degrees.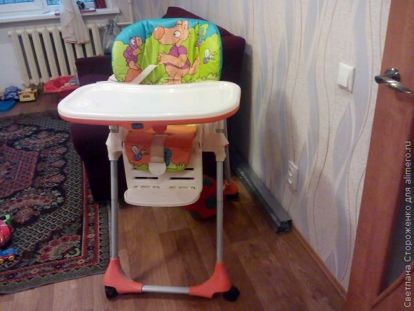 We are now actively introducing complementary foods, we learn to crawl and walk, so things get dirty and change 2-3 times a day. And buying new things so that they immediately become covered with little stained spots, I do not see the point.
It seems to me much more expedient to spend the money saved on a holiday trip with a baby, on organic products, high-quality milk formula, natural cosmetics or good educational toys.
And how did you feel about used things?