Now many of my friends have children, and some even have two. So many of them faced such a problem as atopic dermatitis in a child. Many pediatricians make such a diagnosis and prescribe a lot of drugs, especially without understanding what's what. We are faced with this situation.
First manifestations
I breastfed my son for just over a year. I have to say that I completely followed the diet, did not eat anything harmful. I don't understand mothers who say I drank beer or some wine, but everything is fine with a child. After all, they do not know what the consequences may be for the child's gastrointestinal tract.
And at six months, as recommended by pediatricians, we began to lure. I decided to be the first to introduce vegetables. We bought broccoli and started with one teaspoon. The next day I noticed that my cheeks were turning red a little. It was winter, the batteries were warming to our fullest. Therefore, I didn't even think that this is a manifestation of an allergic reaction. Moreover, the rash was not. I again gave lure, and again red cheeks.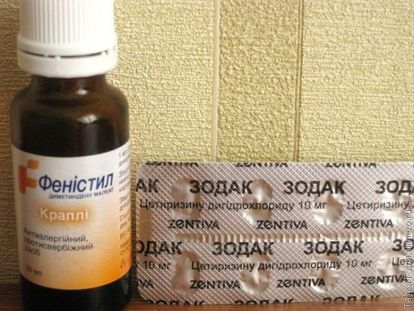 We went to the doctor. She said that you need to postpone the introduction of lures, wait and drink antihistamines. We listened to her advice. A week later they tried again, only cauliflower, everything was fine. Maybe the effect of the allergen has passed, and maybe the droplets have helped. But after three days the cheeks were red again, although nothing new was introduced. Again they went to the doctor and then she told me to look for the reason in my food.
So, my strict diet has become even stricter. I ate only hypoallergenic foods. I will tell you more about what I could.
1) Porridge: buckwheat and rice. Oatmeal was strictly forbidden, said it was very allergenic.
2) Meat: rabbit and turkey (fillet only).
3) Vegetables: all kinds of cabbage, cucumbers, spinach, zucchini. But from the usual cabbage and cucumbers his son had a stomachache, so they are forbidden.
4) Oils: Sunflower and cream.
5) Fruits: fresh apples and pears, sometimes bananas.
6) Dried fruits.
7) Mineral water and weak tea.
Remembering his diet, came up with a funny incident. At Easter, we have a tradition to go to a private house to friends for barbecue. So that year we also went. And when the hostess asked what you were going to eat, I said that it was greens and bread. In general, it was a real test.
But most importantly – the son's red cheeks did not pass. To understand the relationship of food and its allergies, we could not. Neither my husband nor I have ever suffered from any allergic reactions. The son did not eat anything forbidden, neither did I, but the result was on his face. Over time, we began to expand our diet. Her cheeks were very red, then passed.
We passed tests for dysbacteriosis, they were in the normal range. They consulted with the doctor and decided that it is worthwhile to introduce complementary foods, despite atopic dermatitis, but not during the period of acute manifestations.
I want to give a little advice. Before you feed your child with all sorts of chemicals that offer instant healing from allergies:
1) consult a doctor
2) take tests
3) sit on a diet
4) remove all possible allergens
5) do not bathe the baby too often, it can increase the redness and rash
6) do not smear with different creams. The skin must breathe and be clean, that's all
Now, thank God, everything is in order. Whether we have outgrown, or enzymes began to be enough for the splitting of allergens.
We had food allergies, we were convinced of it. But note that this can be not only food, but also wool, laundry detergents or bathing aids. So, pay attention to all possible stimuli.