The moment comes when it's time to wean the baby. He is already big and it is time for him to completely switch to ordinary food. Every mother determines this moment herself. Pediatricians are advised to feed the child almost two years. Others say that breast milk is only beneficial for babies up to 10 months. I can not judge anyone. Better to tell about myself.
My sufferings were just beginning.
I breastfed my first child for up to a year and 4 months. From the very beginning, I definitely decided that I would feed at least a year, and maybe more. But until fanaticism, when children are kept breastfed for almost three years, of course, she was not going to go up. I fed both day and night.
When she began to introduce complementary foods, the child did not stop loving the breast less.
At about a year and 2 months, the baby decided to completely return to breastfeeding from complementary foods. Painful days began. My daughter stopped eating cereals and soups, hoping only for breast milk. She now and then approached me.
It is ridiculous to remember now how she climbed onto my lap and took out her chest herself. The moment came when it could not continue more, and it was necessary to urgently decide something. Having suffered a little more, I decided to take away the baby from the breast.
Conspiracy to help
Before my eyes there was often a picture of how my godmother weaned the baby from the breast. She stroked her hands swollen from her breast milk and quietly howled.
In the newspaper I met a conspiracy that helps to wean the infant more easily. It needs to be pronounced, when they decided that they are no longer going to breastfeed. When the child was laid to sleep in the afternoon, he had to quietly walk up to him and sprinkle milk from his right breast into his legs, saying 3 times: "Little child, are you sleeping? I sleep. Light white forgot? I forgot. So you forget mamma's chest. Amen.
At lunch I put my daughter to bed, said the cherished words and went to express milk. In the evening, the baby did not worry about the milk, but calmly ate porridge. At night, as usual, she woke up to suck on her breasts, but instead drank tea from a bubble. A little frustrated, she fell asleep.
I drained the milk that came, drew my breasts in a sheet and went to bed. By morning the breasts were filled with milk. Of course, it was impossible to decant. Milk should burn itself.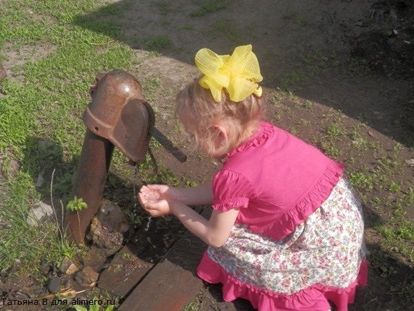 A day later, the breasts were spread so that they could no longer hide under a bandage and looked out. I had to express some milk, but not to the end. The milk was constantly leaking, the sheet was changed to dry and it was wrapped as tight as possible with a full breast.
It was so painful that it was difficult to take the child in her arms. Water saw a little, tea had to be abandoned for another two weeks for reinsurance. A week later, the milk is completely burnt out.
Need to prepare in advance
I have four children and all I fed myself. Weaning was scary every time. But I remember exactly the first time. In other cases, I stopped drinking tea in two days in advance. From the liquid I drank only water. I tried to temper my appetite: let it be slightly hungry, but there is not enough milk. Breast pumped a little bit, when I really could not bear the strength. She continued to drag down the sheets: it was easier. Full chest does not pull and does not hurt so much.
My daughter easily suffered separation and no longer demanded breasts. She will fit, look at the bandage, ask Mom bo-bo ?. I nod my head with an agonizing mine on my face. Yes, bo-bo. All my little ones suffered separation almost without whims, only the youngest asked for a few more days. After all, he was already a year old and 11 months old.