After giving birth, a lot of domestic problems fall on us. And it is sometimes difficult to cope with them alone. A young mother, exhausted by constant lack of sleep, is forced to break between cooking, washing, ironing, feeding, bathing, swaddling …
Of course, it's good if someone from close relatives takes the initiative and at least occasionally can sit with the baby when it is necessary for the mother to leave. Often help comes from one of the grandmothers. But it also happens that the newly made grandmothers are not at all eager to nurse with their grandson or granddaughter.
The fact is that if you were just over 20 years old when I was born (I gave birth to 24), then your mother or mother-in-law, as a rule, is not even fifty. At this age, many of them are at the peak of their careers and are not at all going to give it up for the sake of the diapers. Now and then come to visit, give the grandson another rattle and sit a little near him – that is another matter.
If this position offends you, tell yourself firmly: Did I give birth to a child for relatives? No, only for myself and my husband !. In principle, in the first years of a baby's life, one can do very well without outside help. Even on the contrary, it happens that any advice from the side is terribly annoying.
Remember that your mother has already raised her children and has every right to relinquish the care of grandchildren. If she is sometimes ready to help you with laundry, walks and other worries, it's just great, and if not, can you force her to do this? This does not mean that she does not love your child, she just has so many other things to do and has an active public (or even personal) life.
Yes, it will be difficult and sometimes you will have to sleep on the go or doze with one eye somewhere on a bench in the park, shaking the stroller. The main thing is to console yourself with the fact that all these difficulties will soon end, because the kids are growing so fast.
However, there is another type of grandmothers (most often, these are women in retirement) who, after giving birth to their grandson, seem to settle in your house, give advice about and for no reason and always know best what is needed now. Of course, their help is invaluable, but sometimes you just want to be left alone with a child and feel like a real mother, and not a girl who still needs education.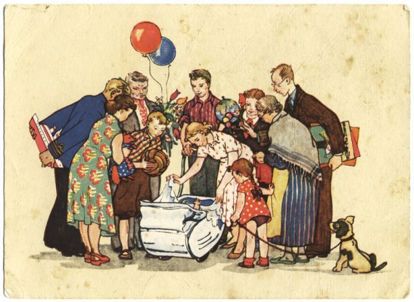 Honestly, if I were offered this choice now, I would stop at the first option. At the very least, I was already accustomed to doing things on my own (and with the strength of my husband, in those rare moments when he was not at work). And now, when the son is already more or less grown up, he communicates perfectly with both grandmothers, who are already ready to sit with him for an hour or two and listen to his funny arguments.