Before becoming a mother, I thought that anti-bottle bottles were just an advertising gimmick of manufacturers, and there was absolutely no difference whether to feed a child from a regular bottle or from a special bottle. But with the advent of my son, I experienced firsthand the effectiveness of this invention.
Our first bottle
I was not very responsible when I bought the very first feeding bottle. Chose on the basis of low prices and eye-pleasing design. In my defense I want to say: the main reason was the intention to breastfeed a child, which was subsequently brought to life.
A bottle, among other little things and necessary things for a newborn, advised to buy a pediatrician in advance. That's why I decided to stock it up before the birth of my son, just like that – just in case.
I went shopping at the children's mall. After all, there all the bottles were of high quality, from proven and reliable manufacturers. But sometimes a big choice is even worse than his absence, and I was absolutely confused.
The only thing I knew about the bottles by that moment: they come in different sizes, made of glass or plastic, and they may have a silicone or latex nipple. Therefore, I chose a small inexpensive bottle, but I glanced at the expensive antikolikovye.
How did we get the anti-colic bottle
She turned out to be absolutely random with us, just a few weeks after the birth of the baby. This bottle came with a Philips Avent manual breast pump, which I had to buy to pump out excess milk.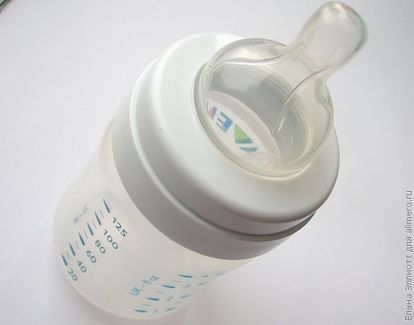 Also, the breast pump rescued when it was necessary to leave the milk to feed the baby in my absence. Sometimes I had to leave the house for a few hours, and my husband fed his son from a bottle.
It was her husband who first noticed the difference between an inexpensive bottle I bought and a Philips Avent bottle. From the second child ate much calmer, not interrupted, to gasp for air. It was obvious that with her he was much more comfortable. Also, the nipple stuck together all the time, but this was not observed in the anticoliko.
And the most important difference: when the husband, after feeding, kept his son in a column for several minutes, the baby never left the air after using the anti-bottle bottle. While after the usual it happened every time.
How does the anti-colic bottle work?
One of the common causes of colic in newborns is the air they swallow when fed. In an ordinary bottle, a vacuum is created, and the child has to break away from it in order to catch air with its mouth. Naturally, this air enters his stomach and causes pain and discomfort.
As I learned from the instructions, our smart bottle had a special anti-colic valve. This valve allowed the air into the bottle during feeding (this was noticeable through the bubbles on the surface of the milk), so the baby could calmly, without interruption, eat.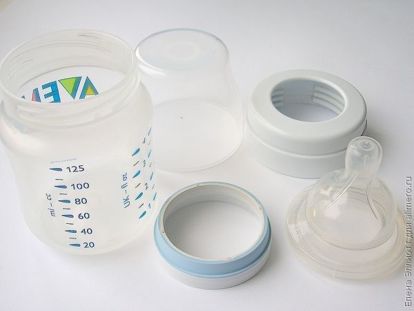 We were lucky: the tummy bothered the son very rarely and for a very short time. But still, I decided to use only an anticolic bottle if possible. So to say, as a preventive measure. Excess air swallow the child to anything, it takes only discomfort.
In addition, as the husband argues: It's not just that there are expensive things and cheap things. For all its reason. And with bottles it was confirmed. A pleasant bonus to the expensive antikolikova turned out to be durability, user-friendly design and the fact that it is very easy to disassemble and wash.
Have you ever used anti-bottle bottles? What feeding bottles did you like more?