So can only moms. Sleep and at the same time listen to the measured snuff of your baby. Here I am, becoming a mom, I sleep just as sensitively. I hear my son tossing and turning, as he throws off the blanket (mechanically correcting him), mumbles something.
I would like to talk today with you about the talkativeness of our little ones during sleep. Do you know this? Until recently, I thought that this happens only in adults (often after a certain dose of alcohol). But it turned out that this phenomenon is quite frequent in young children.
And then immediately there are questions: do you need to worry about this, is it a sign of illness, do you need to go to the doctor's office, etc. What do you say? Worry, we will not care, such is the maternal nature, but if questions appear, they need to look for answers.
Doctors call such a melodic Latin term a saying. The exact cause of its occurrence so far no one can name, but there are several theories. Or maybe they are all right?
1. Strong emotions before bedtime. Positive or negative – there is no significant difference, they equally excite the nervous system. For my son, this factor is too active a game before bedtime. All tickles, catch-ups and laughter now we finish a couple of hours before bedtime.
It is better to take a few minutes, walk in the fresh air. And then – a book with fairy tales instead of TV and a quiet mother's lullaby in the dim light of a night lamp.
2. The transition from one phase of sleep to another.
Somnologists say that the transition from the superficial to the deeper phase is often accompanied by monotonous mumbling. So baby, as if himself lulling.
In such cases, I usually take my son by the hand and quietly say: Sleep a little, mom is near. Usually after that he falls asleep tightly.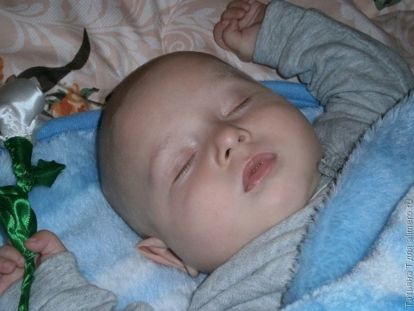 3. Mastering speech skills.
Sometimes it also happens that at first the baby speaks the words through a dream, not quite consciously, and then repeats them during wakefulness. In this case, you can only rejoice – the crumb grows, develops.
4. Pathology of the nervous system.
This happens very rarely (and even thinking about pathology is scary), but you need to know about it. After all, the time of the disease, it is much easier to cure. So, it is worth worrying if a child cries in a dream, cries, cries, sweats and blushes heavily. Often, these babies in a dream gnash their teeth and drool, choke or jump out of bed and go somewhere.
Such symptoms are the main reason to show the child to the doctor.
And now the most important thing is that without a doctor's prescription, you should not give the child any soothing medicines! You agree with me?