When my daughter was very small, I decided that we should certainly have a special highchair. I approached his choice responsibly and was pleased with the result. I thought that up to three years we will use it perfectly.
Today we are already 1.5 years old, and the functionality of our chair has changed. But I will tell about everything in order.
How I chose the highchair
I had several criteria that I identified for myself before buying a high chair.
1. Several levels of height. It seemed to me important at the stage of introducing complementary foods to the baby. Firstly, on the one hand, it is convenient for the mother – no need to sit, crouched in three deaths, and feed the child, which is already a very difficult procedure. And secondly, I planted the baby at the common table so that she could observe how I was eating and showed interest in a new food.
2. Comfortable and roomy chair. I was looking for such a chair so that the child could sit comfortably in it. On the one hand, I wanted it to be soft enough. And on the other hand, not branded. Because when my daughter eats, everything around her is all about food. Therefore, my choice fell on a chair with oil-coated, but with a soft lining inside.
3. Removable table. For me it was important, because in the early stages of the introduction of complementary foods, we did not need it at all. And when the table is removed, it is more convenient to seat the child in a chair. And, of course, I paid attention to how time-consuming the procedure of removing this very table was.
4. The presence of seat belts. Children are eternal explorers. They can not sit still for a second. And naturally, I paid great attention to safety. Therefore, when choosing a chair I was looking for one that would be equipped with reliable seat belts.
5. Reliability of performance. And, of course, the quality of the high chair itself was important to me. That all mechanisms worked reliably. So that the chair suddenly does not spontaneously sink to the bottom level and does not scare the child.
I was lucky and I found a highchair that fully met my criteria.
Using the highchair
Well, now about the experience of using the highchair.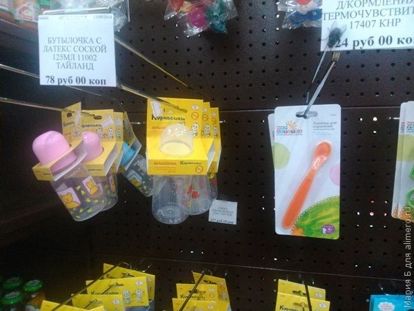 After 6 months, the daughter could already be planted. At the same time, we started the introduction of complementary foods. And then we are very rescued this chair. The baby was interested in this innovation, for a couple of months she enjoyed eating in it, sat with me while I ate.
But the older the daughter became, the more difficult it became to sit in her chair — all the time I wanted to run away somewhere. Then I began to set the table so that she herself began to eat – I thought at least to interest her so much. But she herself did not want to eat herself, and I had to distract her with cartoons to feed her normally. But our every meal was a real challenge for me.
Somewhere in 1.4 years old my daughter categorically refused to eat at the table. I had to feed her in my arms or seat her on the sofa. Apparently, these changes in the daily ritual of the child are very interested, and we returned to the normal procedure of meals. By the way, interest has awakened in order to eat independently.
As a result, since 1.4 years, the highchair has ceased to be used for its intended purpose. Now we follow him exclusively to draw or assemble a mosaic. And not for long. Only half a year we used a highchair for feeding – although I was counting on something else entirely.
Mom, share, and you bought a special highchair? Do your children like to eat in it?