According to research data, cow's milk protein allergy can appear in young children in 2-6% of cases. It happened with us. I am glad that half of the children get rid of allergies in 1 year, and 90% begin to drink milk after 5 years. My youngest daughter, without any problems, began to drink cow's milk after 2 years. Now she loves him very much and will not go to bed without a lace-another.
Allergy: our experience
It all started after a year. In 1 year and 2 months. we stopped breastfeeding and decided to switch to infant formula, which corresponded to our age. The choice fell on Nutrilon, because the eldest daughter was already fed by this drink and she had no problems.
In general, I began to give the baby a mixture and at the same time red rashes appeared on her knees. This could be attributed to irritation, but just at this period the child began to walk. And although before that she moved only by crawling, the skin on her knees was always clean.
The pediatrician explained that it was an allergic reaction and advised to find out by experience what food she appeared on. We went on a diet, ate only authorized food, such as porridge on the water, but nothing helped. My mother and mother-in-law constantly told me that everyone grew up on semolina and nothing. Therefore, instead of the mixture, I tried to give ordinary milk – no changes.
The doctor prescribed us a hypoallergenic milk formula. After I opened a jar of this powder (for 500 rubles, by the way), I realized that my daughter would not drink it. The powder had some strange smell, and the taste was appropriate. Having tried many mixes, we bought lactose-free Nutrilak, and here it went well.
Literally in a couple of days the skin was cleansed, the daughter enjoyed drinking this milk, and I sighed with relief.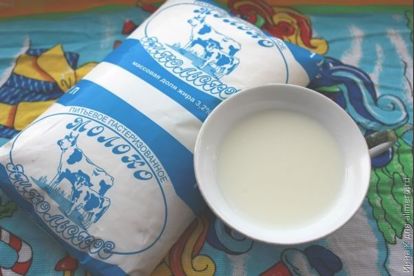 I will not go into the medical jungle, because I understand little of this. I think moms more important information of a practical nature. Most often, an allergy to cow's milk (or rather, cow's milk protein) appears in children on IV. In mixtures, this protein is present.
And my girlfriend both boys were on GV, and was also allergic. Empirically, she found out that when she drinks milk, children develop a rash. The funny thing is that with the first son she excluded everything in the world and did not eat anything, she only drank tea with milk (.) To improve lactation. Now she remembers it as a joke, and then of course she was worried.
Our pediatrician recommended giving an adapted mixture to the child, and not cow's milk up to 2-3 years old. If there is an allergy, the more milk should be excluded. By the way, the usual goat is also better not to use, because it still has whole protein, which is not suitable for the baby's delicate digestive system.
The following mixtures are available for allergy sufferers:
– based on deep hydrolysis (cleavage) of the protein (Alfare, Frisopep, Nutrilak Peptide CTT)
– with partial hydrolysis of protein (NAS GA, Nutrilon HA)
– on goat milk (NANNI)
– for the prevention of the development of allergic reactions (Nutrilak HA, HiPP HA, Humana HA)
We drank our lactose-free Nutrilak for up to 2 years. And then gradually introduced cow milk.
Have you ever been allergic to cow's milk protein?