The first year of her daughter's life was quite difficult for us. Persistent colic, anxiety and crying, sleepless nights and allergies. Very often not one young family faces such problems.
I especially remember allergies. The main thing is not to panic and understand the reasons, and perhaps this period you just have to wait.
Today I would like to share my experience with other young mothers and tell you how I struggled with allergies in a child in the first year of life.
Many mothers immediately start to panic when a baby has a small rash on checks and throughout the body for 1-2 weeks after birth.
Some young parents do not even know that this is a hormonal rash in newborns and immediately begin to stuff the child with medications. This is absolutely not necessary, as the rash goes away with time by itself.
Mom and baby nutrition
In the case of breastfeeding, you should exclude strong allergenic foods from your diet. Since the appearance of allergies in a child may indicate mom's poor diet.
I have several friends who ate everything they wanted (strawberries, chocolate, etc.), and the child had no signs of allergy. In our case it was not the case. It was worth eating a piece of chocolate, the child the next day was with red cheeks or abdominal pains.
During the introduction of complementary foods, each new product should be introduced gradually, increasing its quantity. If the child does not have any problems, feel free to increase the portion.
Since my baby suffered from colic for a long time and she had weak intestinal motility, she had to follow a strict diet. I did not eat any hazards, no soda, and especially fast foods. Everything is boiled, stewed, nothing fried.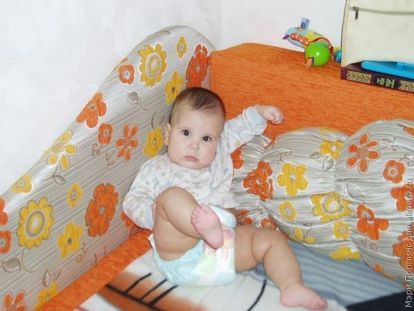 Frankly, I gladly absorbed all this in moderation when I stopped breastfeeding. Still, I eat tasty food 🙂
What helped us
I can not say that my rigid diet completely relieved the child from allergies. She sometimes showed red cheeks. Maybe I shouldn't stick to it. I did not pass tests in the laboratory for allergens, as I consider this a waste of time and money. Helped bath with a string, as well as Sudo-cream.
Since my daughter had dry skin, the doctor advised me to get A-Derma or Topikrem cream. That was our salvation. The tool is not cheap, but it is worth it and grabs it for a long time.
After a year of her daughter's life, allergic reactions became less and less common. But I still watched her nutrition and well-being. After all, even a piece of chocolate can harm the baby.
And how did you deal with allergies in your children? And did the diet of your food influence its occurrence?