I do not know if any of you have ever thought about this topic. Until recently, personally, it seemed to me that this was not a topic of mine, that this was a rubric of the world around us — I looked, took note, and that was all. But the further, the more I worry about the topic of foster children.
While I didn't have children, I really wanted a child, and it was in my thoughts that this would be exactly my child – I was conceived, worn out and born by me. Then I had a son, and I plunged into a new world, a new life. As he grew up, I went through all the stages of becoming a parent, and at some point the thought of a foster child flashed through my mind.
Life was such that I broke up with my husband and bring up our son alone. Of course, this does not mean that until the end of our days we will be kukovat together with the child. Perhaps somewhere ahead – and already very close – a new family and a new happiness are waiting for us, but while it is waiting, I ask myself this thought about the adopted child.
In civilized countries, the adoption of children of any age, gender, cut eyes and skin color – a common thing. It is no secret that basically they want to take a newborn baby, having thus passed the full path of a parent (or at least the most complete one possible). These kids are in great demand.
Personally, I have already traveled this path, and not just from scratch, but from a minus – nine months before delivery. Probably, therefore, when I think about the adopted child, I don't have a picture of a newborn in front of me – more likely the same three-year-old as my son.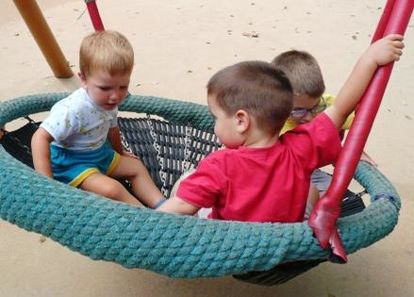 I know mummies, who, having given birth to a child and after sitting with him for three years (or who rely for as much as possible), strive to go to work to continue their careers. I often hear that, they say, I have already lost my own, now in kindergarten, school, etc. I hear that one child is enough for me, I no longer want it. I hear that I have given birth, now you can think again about yourself – career, beauty, fitness, sports, etc.
I hear and feel like the black sheep, because of all the things that I did and what I did, I like to work with children most of all. So much so that last summer the light-hearted entertained on the beach a dozen children from 1 to 4 years old, while their mothers basked in the sun.
I have a higher education, decent work experience (for my age) and its decent diversity. I did not sit in the closet, knowing nothing, seeing nothing. In the crystal castle, however, also did not sit. I earned my first coin somewhere in 14 years. Further more.
I saw a lot of things and a lot of things I can do, but from all that I hear that they list to me (business-woman, super-slim, a lot of time for myself, etc.), somehow I am not tempted by anything. I was already alone, I was in a management position, I had people in submission (even if not the army, but still), I was super-slim, I took a lot of time for myself … I saw it all, for me it was a past stage.
For me, a child is not just my blood and flesh, beloved son, honey, honey, etc. For me, this is a new project, if you want (and you are a businesswoman), and, moreover, a unique project. There is no other such thing on the whole planet. And it depends only on me what will come out of this project.
Well, not only from me, but for the most part – yes. So yes, I want more children. I want to see these new projects, how they develop, grow, become adults. I want to invest myself in this, and not in mechanical engineering, tourism, banking, etc.
Unfortunately, only the housing problem keeps me from adopting – I live with my parents, and with our property prices it's simply unrealistic to buy my living space. If it were not for this, I think I would already have two children, and it is quite possible (taking into account the situation) the second one would be a foster.
What do you think about foster children? Would you (like) to adopt a baby?