When I was pregnant, my husband and I somehow immediately realized that it would be a separate person in terms of needs and desires. And already at birth she was greeted: Daughter! Umnichka! Sun!.
Despite my isolation, I love to talk. But only with close people whom I trust. With the birth of my daughter, I spent all my time with her, and I was just bored all the time to be silent.
Are you talking to her?
My mother still, once again, with admiration noting the success of her daughter in building sentences and conclusions, asks me again: Are you talking to her ?. Every time I am also amazed at the question: What do you mean, I say? I live with her !. Life in the family without communication is hard for me to imagine.
Now I will remove your bodykit from you, we will carry out hygiene and I will breastfeed you, yes, baby, I see that you want to sleep, I just finish the buckwheat and immediately put on a sling for comfort, now my mother will wash, and now we will bake our favorite pancakes.
Thanks to this, my daughter never had a word in the lexicon of the word hush, which is common, but incoherently, in my opinion. Therefore, I didn't have the reason to complete the GW that was present in other moms: He understands everything !. Of course, understands, this is my goal.
I voiced all the actions that I performed or manipulated with my daughter. After the birth of my daughter, I came across a note with one sentence, which said that it was better to talk with a child. At that time I did not understand at all why and for what, but I really liked the idea.
The husband, at times, laughed and wondered where it was from when I suddenly had a powerful boltological shot. In my daughter's year, for example, at her surprised look at the sight of a street bin, I explained why she was here and how she was taken out of her garbage. Since the daughter already knew that it was an urn.
I got a taste
My daughter is a grateful listener, especially in the first 1.5 years of life. Absorbed like a sponge and did not interrupt at all :-). The passive vocabulary of the daughter was replenished, the active one was beginning to erupt: by 8 months the daughter consciously called me mum, and at 9 dad – dad, by syllables.
According to the questioning glance of my daughter, I called all the objects of interest as many times as she needed. At the request, she told the purpose and occurrence of various things in their places. I clearly enjoyed the conversation with my daughter.
Visible success in speech skills
At 9 months, my daughter began to call everyone around ba-ba, and at 10 she said, although the words were covered with a blanket and lipstick. And dad said everything especially quickly. She was afraid, apparently, not to have time to share everything that she saw and felt. At 1.7, my child spoke in simple sentences.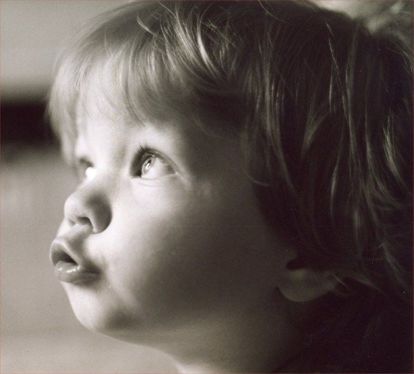 I do not want to say that only my merit is in the success of my child's speech, but the fact that I influenced this is a fact. Now, at 3.3 years old, the daughter speaks complex sentences, asks many difficult questions and has a huge passive vocabulary, which cashes out from time to time.
Be able to express emotions and feelings
When I was 29, I didn't really understand what I was feeling and how it was called. My daughter can now identify and say such things as: I will be very bored, I'm sad, I love you, I'm missing your attention, I don't want to go because I feel bad.
Here, even my discreet husband realized the importance of the fact that a daughter can understand and express her feelings and emotions, as well as her condition, sometimes even voicing the reason. I try not to interrogate my daughter in order to learn about her feelings. There is another method, more long-term, but much more necessary.
I voice my emotions in different life situations: I am evil because I thought that we have meat. I don't want to go to the store so early, I'm sad because dad and I had a fight, I'm annoyed because I'm tired, you don't blame, I'm so glad that I have you !.
Children feel very good emotions, and a special connection with their parents allows them to accurately feel their condition. When we voice what happens to us in moments of turbulent negative or positive emotions, the child compares this with what he sees, and he begins to understand what is happening with him.
It turns out that my daughter and I almost at the same time learned to listen to ourselves and to voice our state in order to know what to do next. I believe in the power of a personal example! And she is.