The newborn is not so fragile
In the first pregnancy I studied a lot of different literature about pregnancy, feeding, childbirth. But for some reason I didn't think at all that I should prepare in advance and read about the children of the first month of life, how to behave with them.
By chance I was lucky, I accidentally read a good article by a pediatrician about newborns. The main idea of ​​this article is that a newborn is not as fragile as a crystal vase.
No, no one said that they can twist and twirl like a sports projectile, but at least you should not be afraid to pick up, change clothes, bathe and carry out other manipulations.
Our attitude with my husband was as follows – no help from grandmothers. All by yourself. Of course, we warned them about this even before giving birth. I can not say that they treated this with understanding, but our decision was made. To give birth to my husband and I went together.
Already a couple of hours after the birth, when they were allowed to go to the ward, my spouse, practically snatching our wrapped baby out of the hands of the midwife, said that he would take it to the ward himself. The doctor was a little dumbfounded, but did not dissuade.
Already later, in the ward, I asked him, and you were not afraid to take such a crumb in his arms? He explained to me that after seeing that a midwife and a pediatrician are doing with the children, it can never again be scary for him to take the child in his arms.
Native hands he needs
No, they do not do anything special with the children, they simply behave confidently and do their work: they check reflexes, wipe, dress, listen and so on.
Understandably, more than one thousand children passed through the hands of the medical staff of the hospital, their movements are confident and at the same time easy, accurate and focused. In fact, so can any mother, because these skills have been living in her for a long time, these are instincts that can not be destroyed.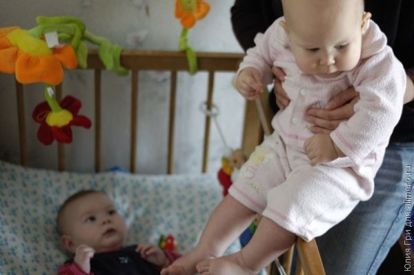 And to be afraid and ask for help in caring for a child from their parents is absolutely not necessary. To keep the child in her arms is not difficult. In the end, if he is uncomfortable, he will definitely let know about it.
In the maternity hospital, in each shift, there is a pediatric nurse who will help and answer any questions, help and tell you how and what to do correctly. And three days after the birth, which young mothers spend with babies in the hospital, is more than enough to get the basics of childcare and have time to train under the supervision of experienced professionals.
I really remember the moment when the nurse took my baby and right there in the ward went to wash her hair under the tap. In fact, nothing complicated about it. At first, only her words sounded scary, that you need to wash your hair.
But it was precisely a vivid example that was very useful to me, I saw how to take the child correctly and put it in her hand so that all the necessary procedures could be carried out.
Caring for children is not complicated at all, and the mother's and father's hands are much more necessary to a newborn than even experienced, but grandmothers!
And you were afraid to take the child in your arms? 🙂