The problem of abdominal pain in young children, I encountered firsthand. From birth, my daughter suffered colic at night and in the evenings.
It happened that Masha was crying to the blue and we could not do anything. A couple of times I had to call an ambulance so that the child could at least sleep a few hours.
We had all possible and impossible means to alleviate the suffering of our daughter. What we just did not try: Espumizan, Riabal (by the way, a strong medicine), a vapor tube, dill water, enema, and other widely advertised drugs. We also passed the necessary tests and the doctor assigned us probiotics.
Honestly tell you that all this did not help. You just had to go through this period, endure. Of course, we were sorry for the baby, but the moment came when it was all over.
With severe pain, my daughter fell asleep on my warm belly or on her husband's belly. Only then was the problem, to shift our finally sleeping angel at least on the sofa. All sorts of warm diapers did not help, only mom or dad.
Sometimes breastfeeding also saved, as a means for calming down. My daughter refused to give birth to a pacifier from birth, so sometimes she had to feed them on demand.
Maybe someone will laugh, but she sometimes helped us a lot. When my daughter cried a lot, I or my husband went to the kitchen, turned on the hood and my daughter went to sleep under her noise.
I now remember with laughter how I fed my clothed Masha, put him quickly in the carriage and ran out into the street so that she could sleep at least an hour. She was then 3-4 months. Just a few seconds could spoil all my efforts. The baby was starting to burst.
I had to go either on tiles or over bumps in the forest. If the child woke up on the street, in the same way, in a hurry, you had to go back home.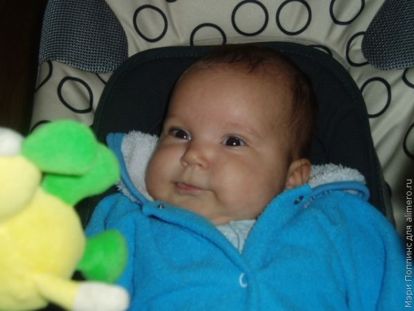 The colic ended, and another problem began. From birth, the daughter has hypotonia (weak muscles). Not only outside, but also in the internal organs. Up to 7-8 months in order to go normally to the toilet and get rid of gases, we used a vapor tube and glycerin candles. My daughter was very hard to handle the greatest need.
With the introduction of complementary foods, the situation has more or less returned to normal, but we still have problems with the stool.
So we struggled with abdominal pains. Feeling for yourself all the charms, I want to advise parents to have patience and strength!