How warm it was on the street! I can not believe that it is still only the middle of spring. A little more, and my little fidget will ask to play on the street with some water. I am already starting to remember all the water games, which a few years ago amused his older sister.
I think many mothers can use such a cheat sheet of 9 fun with water. Let's start?
Fun 1. Aquarium.

All that is needed for the game is a bowl, a measuring spoon and various small objects (buttons, beads, mosaic). First, the baby releases small fish (small items) into an aquarium (a bowl of water). And then he tries to catch them all with a measuring spoon. The second hand can not be helped.
Fun 2. Wash.

Who said that household chores cannot be turned into a game? My daughter really liked to wash her socks, handkerchiefs and doll clothes herself. Moreover, all grown-up. In one bowl, she washed with a piece of baby soap, and in the other – rinsed. To make it convenient for her to hang clean things to dry, Dad specially pulled a small rope in the yard at the level of a daughter's height.
Fun 3. Storm.

Would you like to teach your baby deep and measured breathing? Arrange him the sea in the bathroom or pool. Pour some warm water, seat the baby in the middle of the sea and place around 10-15 ships with passengers on board. For these purposes, perfectly fit plastic caps. Passengers can be peas or beads. Let the child blow so hard that the ships float to the shore.
Fun 4. Forms of water.

Show your child how easily water takes the form of the container into which it falls. Balloon or rubber glove, glass or bowl …. Let the baby choose a pot himself and fill it with water on his own.
Fun 5. Water and sponge.

Does your child know that with a sponge you can transfer water from one bowl to another? Not? Then show him this game. Pour some water into a small plate and have the child dip a dry sponge into it. When moisture is absorbed, the child can transfer water from this bowl to another. Praise if he has not uttered a drop.
Fun 6. Grandfather Mazai.

Even if your child does not yet know the tale of this good grandfather, he may well learn to assist those who are in trouble. Let it be for the time being just little toys on pieces of foam that are floating in a large bath or inflatable pool. Let the crumb feel like a real lifeguard and transplant all the poor drifting toys into his boat.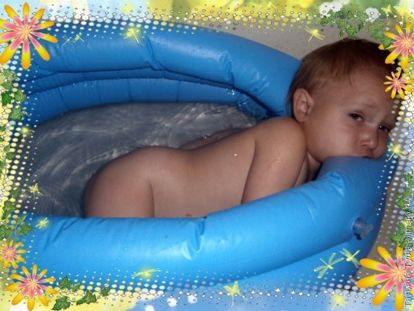 Fun 7. What will sink.

Using this game as an example, the properties of various materials can be explained to a child. Take, for example, foam and buttons, a ball and a detail designer. Dip them in a basin of water and tell the crumbs why some objects fell to the bottom, while others stayed to swim.
Fun 8. Water cannon.
Water gun can be bought in the store, and can be made from scrap materials. For example, a half-liter bottle of mineral water can easily turn into a homemade gun, if you make 2-3 holes in its cap. And if she already has a non-spill lid, all that remains is to pour warm water inside. You can draw a goal on the wall of the house and offer the crumbs to practice accuracy.
Fun 9. Waterfall.
Home waterfall is very simple to arrange. To do this, you need to fill a large bowl with water and, raising it higher, pour some water into the empty bowl standing below. Noise, spray and joyful squeal of the baby are provided to you.
Well, that's all for now. Children's tested wet games.
Whatever you choose for yourself, this will undoubtedly bring joy to you and your child. And still such fun perfectly train the imagination of kids, their logic and motility.
What kind of water games do your kids like?