Hiccup, hiccup, go on. well and then, according to the list. Remember this, still grandmother's method? And also – hold your breath, drink a glass of water in small sips, or get scared. Maybe for us adults, it helps, but what about babies?
The causes of hiccups in children are quite a lot, and therefore the methods for overcoming it are also very diverse. I will tell you what I do when my children start to hiccup.
The first month after birth, my crumbs often hiccupped from overeating. They eagerly grabbed their breasts, quickly swallowed the milk, and, as a result, their tiny ventricles filled up. The air, which the child involuntarily swallowed with milk, also contributed to hiccups. By the way, I noticed, if the baby eats lying down – it will be necessary to hiccup after a meal.
Of course, the hiccups do not cause such unpleasant sensations to the baby, but they hinder sleep. Therefore, I tried to feed the babies by slightly raising their head. And I also watched how much time they needed to satisfy their appetite, and tried not to hold them longer in the chest. My daughter fed up quickly – 7-10 minutes, but my son needed at least 15.
And, of course, after each feeding, I kept the babies in a column and stroked the backs, giving them the opportunity to release the extra air.
My son was freezing very rarely, he was bored with more heat, but the daughter did not like the cold. She was born almost at the end of the autumn, in that year the cold began here early, and we walked in the fresh air every day. And as if I did not dress her warmly, as if I did not wrap a blanket, she still began to hiccup at the end of the walk.
Hearing her plaintive hiccup out of the stroller, I immediately hurried into the house, took off her outerwear and held her to me. She took her hands in her hands, wrapped her with a warm rug and gently swayed her hands. Usually, after 2-3 minutes hiccups passed.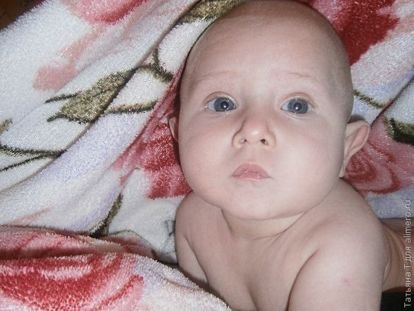 We also had such an incident. Son was 9 months old. My spouse's uncle came to visit us. Besides the fact that he was about 2 meters tall and difficult to call him slim, he also couldn't speak quietly. His voice reminded me of a church bell.
And so Dobrynia Nikitich entered the nursery and asked the voice of a front-line commander: Where did they hide my grandson? It's impossible to convey the child's fright with words, he forgot to cry, only he began to hiccup, and he gripped my hand like that, his fingers were white.
Our dad, seeing such a fright of a child, took the dear guest away from the nursery, and I began to soothe the baby. I pressed him to myself, and stroked my back, and gave some water to drink – nothing helped. That time the hiccups lasted 20-30 minutes. It stopped only when the little one fell asleep in my arms.
I also heard that there are such disorders of the central nervous system in children, and then the hiccups occur very often and do not stop for a long time. But, fortunately, such a fate has bypassed us.
Do your babies have hiccups? How do you fight with her?