Oh, this hair. You always want something more. That density is not enough, the volume is not enough. And sometimes you wait, you will not wait until they grow to the desired length. Or, say, dandruff, and the split ends are exhausted. In such cases, ordinary baker's yeast comes to our rescue.
Not so long ago, I shared with you the recipes of beer yeast masks. Today we will talk about culinary yeast, familiar to every hostess.
For one procedure, a small piece of pressed yeast (grams 20-25) will be quite enough. And you can replace them with a tablespoon of granulated yeast (the effect will be no worse). Growing yeast will be best in a sweet, warm environment. I took as a basis a simple mask with yeast and sugar and gradually added all the new ingredients.
The first thing you need to prepare a large capacity, because when the yeast is played, they greatly increase in volume. If you tolerate honey well, add it to the yeast (about half a teaspoon). If there is no honey, or you are allergic to it, it does not matter, replace honey with a teaspoon of sugar. When the first bubbles begin to appear, mix the mask and leave for 50-60 minutes in a warm place. During this time, your mask should increase in volume every 10.
In fact, it is already a finished mask, and it can be safely applied to the hair. True, she has one major drawback – the smell! Get rid of the yeast flavor is quite difficult. If you are confused by this fact, proceed as follows – add kefir and cocoa powder. Kefir (2 tablespoons) preheat a little beforehand. Pour into the honey – yeast mass, and wait until it starts to rise. After that you can add 1 tbsp. a spoon of cocoa.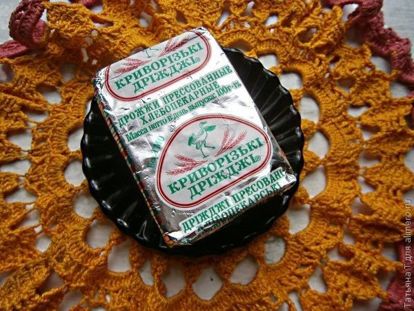 Such a mask should also stay warm for about an hour. On the hair should keep it for at least an hour, and you can wash off without shampoo. After this procedure, the hair becomes shiny, obedient, dandruff disappears without a trace. And the smell of hair is amazing – chocolate!
Another option
If your hair has become too brittle and falls out more than usual, use the same mask, but with a little nuance. Namely: before applying the mask on the hair, add 1 raw chicken yolk and a couple of tablespoons of brandy. To prevent the mask from flowing, wrap your hair with plastic wrap (I like to use food wrap for this purpose), and on top with a towel or handkerchief. After 40-50 minutes, the mask can be washed off without the use of shampoos.
Have you tried to make such masks? Liked?