Never suffered from dandruff, but recently noticed that the scalp began to itch and a snowball appeared. I do not know what was to blame – lack of vitamins or incorrectly selected shampoo, but I have already begun to fix the problem. A special tool has not yet acquired, while trying folk.
Virtually all herbs produce antiseborrheic effect. Therefore, if this problem only appeared, you can try to get rid of it with the help of decoctions.
Nettle. 3 tbsp. nettle pour 500 ml boiling water, boil and cool. Strain and rinse hair after washing. You can also rub the liquid in the hair roots. By the way, I used to make such a nettle decoction for my hair every week and didn't even know about its purpose!
From birch leaves. I don't even know where our birch leaves came from and what we used to treat them, but you can make a healing potion against dandruff. 2 tbsp. birch leaves on 1 tbsp. boiling water and insist 20 minutes. Strain and use after washing. Not only help get rid of seborrhea, but also strengthen the hair.
From licorice root. Well, I bought this collection against coughing, but it turns out it helps to cope with problematic scalp. 1 tbsp. Licorice root pour 1 liter. boiling water, put in a water bath for half an hour. Cool, rinse and rinse hair with infusion after washing.
If rinsing does not help, you can try to use hair masks.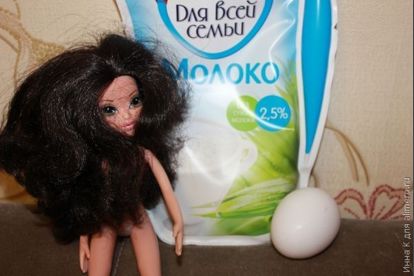 On milk. If you have milk at home, do not rush to pour it, try to use it for other purposes. Mix a glass of milk with the egg and rub it into the roots of the hair. Then you can shed the mixture over the entire length of the hair. Put a bag over your head, a towel on top and walk for 30 minutes. Then we use shampoo.
With aloe. I have aloe growing at home, and I decided to use it too. That's just the composition of the mask I did not really like. It is necessary to crush garlic in the amount of 2-3 tsp, mix it with 2 yolks, 3 tbsp. honey and 2 tbsp. aloe juice Apply the mixture on the head and hold it for 1 hour. To be honest, I was so embarrassed by the smell of garlic that I did not use it. Nevertheless, I cite the full recipe, because I saw him in that composition in many sources.
From clay and fir oil. And finally, my latest purchase, I must have bought the essential oil of fir, it was useful to me in the fight against seborrhea! Clay mixed with water, dripping fir oil and applied to damp hair. I learned from bitter experience, now I use only white clay for my blond hair. Once I tried black and they got an ashy tint from me.
I already see a small effect from the use of home remedies, I think I am moving in the right direction!
Do you know the folk remedies for dandruff?