I had long hair in my childhood. My grandmother and mom made me a variety of hairstyles to school: pigtails, a basket, a spikelet, a tail, a bun, and much more.
Now I am the mother of my daughter myself and I have to invent all sorts of hairstyles so that the hair does not interfere, especially in hot weather. My boy with thick hair and long field of fantasy is limitless. But the most popular hairstyle is a pigtail. Or rather, spikelets.
This hairstyle is good because the small curls are not knocked out of the hair. Such braids can be braided for a whole day and they will look neat even by the end of the day. Unless, of course, do not pick this hairstyle from time to time 🙂
I want to immediately note that the hairstyle is beautiful and more or less even, the child should sit quietly for 10 minutes. For us, salvation is cartoons 🙂 But it doesn't always work out the way you planned. Torsion of the head and fidgeting on the chair – no way out of it, these are children!
First, decide on the rubber bands. They can be anything. The main thing is to firmly hold the tips of the braids. You also need a comb with small teeth (for parting) and a brush.
We quite often use this method of weaving, because the elastic with a small strand of hair does not allow these very small hairs to crawl out of the hairstyle.
First you should carefully comb your hair, then divide the small comb into two parts. Parting do in the middle. One part is tied up with a rubber band so that the hair does not interfere.
Tie a little tail.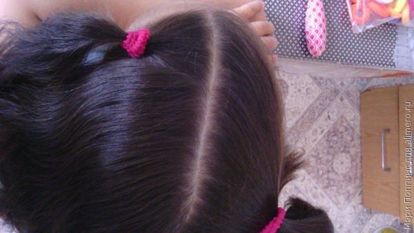 From the tail we begin to weave a pigtail (spikelet), grabbing strand by strand on both sides.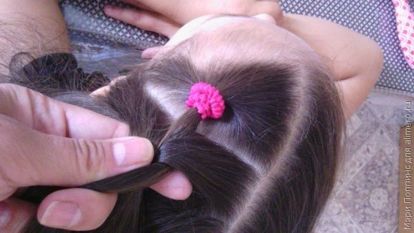 Almost half a pigtail is ready.


The result was such a pigtail.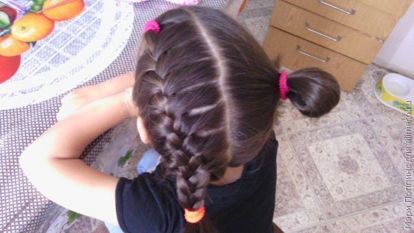 This method requires more patience from the mother and perseverance from the child, since the strands are smaller than in the first version. However, you can grab strands larger. So it will be faster.
We start weaving from the very growth of hair.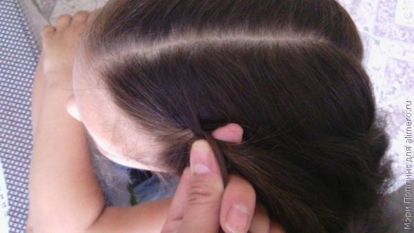 Half a pigtail is almost ready.

Patching braid and tying with rubber band. The second weave in the same way. Front view.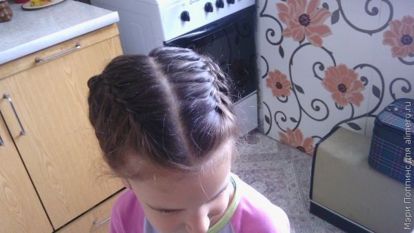 On the side.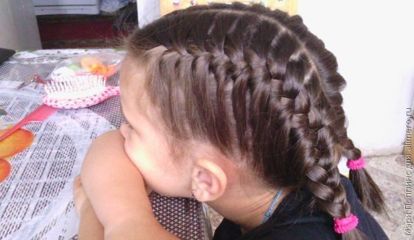 My daughter categorically does not recognize loose hair, even in winter. Therefore, I almost every day braid her such pigtails and spikelets.
And what hairstyles do you do to your daughters?