Each girl pays a lot of time caring for her hair. And at the same time worsens their condition using styling products, hair dryers, curling, as well as regular dyeing.
Toning is different from staining in that it is washed off much faster. Tools that are used for toning are much less aggressive. In tinting agents, the pigment does not penetrate into the hair, but envelops it. Therefore, toning practically does not spoil the hair, unlike staining.
Some toning agents even contain vitamins and other beneficial substances, so the hair becomes healthier after the procedure. There is an erroneous opinion that the hair can be tinted only in the salon. In fact, at home it is easy to do. It is only important to follow certain rules and buy a quality product.
If you are blonde, then you can tint your hair in any color. But, choosing dark shades, it should be remembered that after the second washing of the head the paint will begin to wash off and the color will become uneven and ugly.
Brunettes should remember that the tint does not lighten the hair, so you should choose a color that is darker than yours.
It is better to choose shades a tone two darker than the base color. Then in a few weeks the color will be more natural.
Tint shampoos, masks, sprays and balms are soft remedies. Choosing them, be prepared for the fact that the shade leaves your hair after the first wash.
There are more intensive products that contain a small percentage of oxidizer. Dye penetrates a little deeper into the hair structure, and lingers on them for a longer period.
Tone need only clean hair. They should be dry or slightly damp. It should be applied first to the hair roots, and then spread over the entire length.
In order not to stain the skin, you need to apply a greasy cream. Then the paint on the skin, easily washed off with the cream.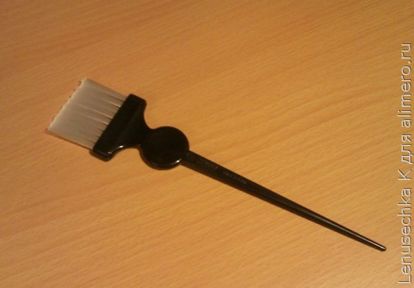 Toning agent should be kept on the hair for about 30 minutes, then rinse with warm water, without using shampoo. To distribute the color more evenly, slightly wetting the hair, massage it well and leave for a couple of minutes. When all means will be washed away, process hair with balm-conditioner.
As you can see, tinting hair at home is very simple. Dear readers, where do you prefer to do this procedure: in the salon or at home?