Practically every one of us needs thermal protection, as we all (who are constant and from time to time) use a hairdryer, curling tongs or a hair straightener. Thermal protective means allow minimizing the harmful thermal effects during hot styling and preserve the health of the hair.

Why do I need to use thermal protection?
Despite the fact that I am the owner of straight from the nature of the hair, I often use the iron. After trying it once, I was just amazed at how shiny, perfectly smooth and silky it makes my hair. And now this is one of my favorite styling methods. It is simple and does not take much time, and the effect is chic!
The iron helped me and when I had very long hair (almost to the waist), and when I wore a square to the shoulders, as they can not only straighten the hair along the entire length, but also twist the tips, style the bangs.
My first iron was with metal plates, which is not very useful for hair. But I approached the purchase of a second one more responsibly and chose ceramic plates. But the fact that there are special thermal protective equipment, I learned not immediately.
Quite by chance talking to a master in the salon, I let slip that I use the iron at least once a week. To which she asked what remedy I put on my hair before styling. I replied that I absolutely did not use anything and did not even think about it.
The master scolded me and said that sooner or later a far from harmless thermal effect on the hair would make itself felt. Therefore, on the same day, on her advice, I acquired a special thermospray.
Thermal damage to the hair is harmful in the same way as mechanical or chemical damage. Permanent hot styling dries hair, and it becomes brittle, dull, split. Therefore, even the best iron with the highest quality plates and temperature control is not a guarantee that the hair will be safe.

How does thermal protection for hair work?
First, thermal protective agents form a protective film along the entire length of the hair and do not allow moisture to leave it when exposed to high temperatures. Due to this, the hair will not become brittle and dull.
Secondly, the composition of such funds include special active substances and vitamins that strengthen the hair and improve their appearance. The ingredients that are contained in the thermal protective agents are activated when heated, which is quite logical – it is the hot method of laying that makes us resort to their help.
Finally, thermal protection for hair may have additional fixation. This is very convenient: with the help of a single tool, you can protect your hair and fix the hair, making it easier for you to style.
Many manufacturers add a antistatic effect as a nice bonus.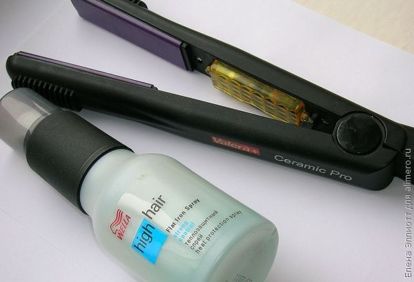 Types of thermal protective equipment
These funds are both washable (shampoos, conditioners) and indelible (sprays, gels, serums). I have a rather skeptical attitude to the first category, and the second one causes much more confidence. I am a supporter of the idea that thermal protection should be applied immediately before installation: only this way it will be effective.
Also, a lot depends on whether you need additional fixation or not, your wavy hair or straight, dry or prone to fat. Fortunately, the range of such products is very large, and many well-known brands (for example, Wella, Estel, L'oreal) produce thermal protection products for installation.

The remedy that suited me
I want to share my impressions of the thermo-spray from the Wella High Hair – Flat Iron Spray series. It was I who acquired it on the advice of the master, and I did not have to experiment any more, since I was absolutely satisfied with this thermospray.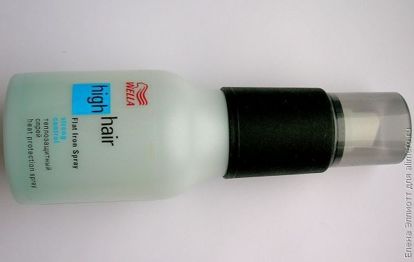 The cost of the facility is quite high (about 500 rubles), but I spend it very economically. One bottle when used on average once a week was always enough for a year and a half. Besides, I do not believe that cheap thermal protective equipment can be effective.
It is very simple to use thermospray. First, the hair should be washed and completely dried. Then, carefully shaking the bottle (as a two-phase agent), spray the agent onto each strand and straighten it with an iron.
The effect of styling using a thermal spray lasts me for several days, as the hair will remain perfectly straight and smooth for a long time.
The only negative: my hair is prone to fat, and the oily component of the spray only aggravates it. Therefore, I am a little tricky: I apply the spray not evenly along the entire length of the strand, but I focus on the tips. Although I know that this is not entirely correct. But this way the hair becomes less heavy and slower becomes greasy.
I don't know, this is entirely a merit of the means or only partially, but I can say for sure: my hair didn't suffer at all from the many years of ironing.
Do you use heat protection for hair? Which ones do you find most effective?