Girls, today talk about a miniature serum for hair from the brand John Frieda. Despite its tiny size, this baby deserves special admiration! Below I will tell you why.
The manufacturer (UK) promises the perfect smoothing of even hard and curly hair. Hair looks smooth and well-groomed. Apply to wet hair and do not rinse.
This miniature (25 ml) caught me in one of the boxes of beauty. Immediately I will say. That the box is not Russian, so there is not a word in Russian on serum. But the great and terrible Internet came to my rescue and now I am ready to share my opinion with you.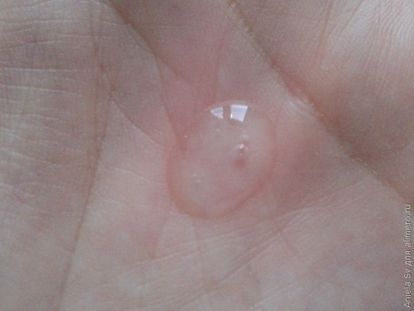 I noted that the serum is very convenient dispenser – at one time it squeezes a small amount of money. On my long hair (I apply only on the tips) – 2 taps are enough for me.
I use the serum only in those days when it rains – because of the damp air, the hair gets tangled, curls and hair looks sloppy. With this serum this does not happen – even in heavy rain, my hair remains smooth.
The manufacturer advises to apply the serum on wet hair, but I ignore this advice and apply the serum immediately before going outside, that is, on the dry ends of the hair (not higher than 2/3 of the length).
The serum is immediately absorbed into the hair, does not fatten them, and does not aggravate the situation the next day, that is, with her hair does not get dirty faster.
Since my hair ends do not split, I cannot say about the effect of the serum on this process, but I assume that for a short time the serum will still stick them together and they will look much neater and healthier.
The full composition of the tool can be seen in the photo. It is short and imperfect – the main component is silicone – dimethicone.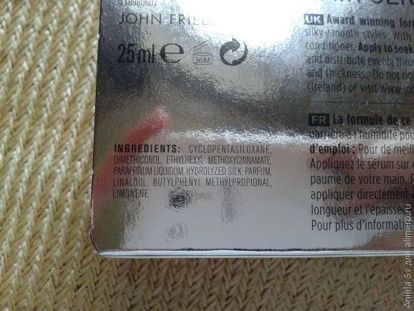 Summary
Serum of decent quality. If you have naughty hair – she will pacify them. Therefore, I can safely recommend it. The cost of a full-size version in stores is about 750 rubles.