Finally, I found an approach to my hair! What I have not tried for many years. Now I, as an expert, can talk about hair care products.
But this applies only to my hair type – thin, curly, fluffy. Before, I didn't like them very much for all these qualities, but now I'm proud, because curly hair is much more interesting than straight ones.
Therefore, I tell you what I use now and, I think, I will use it for many more years:
1. ALFAPARF Precious Oil Tradition Anti-Frizz Shampoo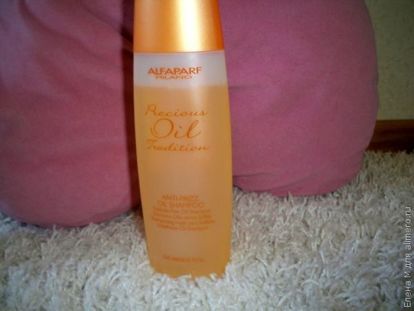 A long time ago I already had a shampoo from this company, and I also liked it very much. Then for me he was very expensive. After some time, I decided to buy it again, despite the high price, but there was no such shampoo in the store. Now it is also very difficult to find in our city, so the last one I bought in Moscow.
The information about the shampoo says that it makes the hair more well-groomed, not allowing it to become disheveled. The shampoo contains natural ingredients that provide gentle cleansing. Nutritious components intensively moisturize the hair, facilitating combing, making each hair elastic and elastic. A special complex containing Pekui and Opuntia oils has a smoothing effect on any type.
Straight hair often begins to curl with increasing humidity, and curly and curly hair get disheveled. Therefore, the shampoo contains an innovative complex with a moisture-resistant effect, which allows you to create a controlled image, without making corrections for the weather. The shampoo contains no salts, paraffin, parabens and sulphates, which makes the effect of the product on the hair most mild.
I agree with all the above. It really is. The hair after this shampoo is docile, well-groomed, shiny, smooth and not puffed. For me, all this is very important.
And the fact that there are oils in the shampoo plays a special role for me. My hair is constantly in need of nutrition and moisture, and only oil helps me to provide this. In general, the shampoo is very good.
The price is about 600 rubles.
2. Diplona Professional Your Shine Profi Conditioner for dull hair and shine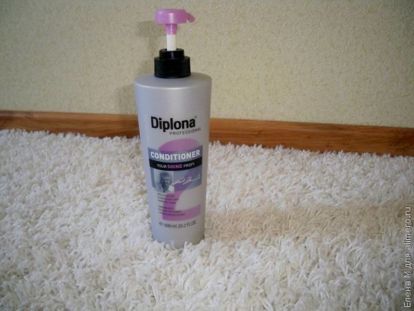 I did not choose the air conditioner for a long time, because I had a good hair mask. I bought it in a non-professional store, focusing mainly on quantity, not quality. But it turned out that she won in both cases.
The wonderful composition of the product includes:
Panthenol – a moisturizer that penetrates the hair cuticle and enlarges it, and also covers it from above to add shine.
Glycerin – penetrates into the hair, keeps moisture in it, thereby making it durable and elastic.
Milk proteins – nourish and restore the structure of both the internal tissues of the hair and their surface layer, retaining the natural moisture of the hair. Give a feeling of softness and conditioning hair.
Silk proteins – have film-forming properties, which improves the appearance of hair.
Lactic acid – regulates the fat secretion of the scalp, ensuring its healthy balanced state. Hair becomes lively, light and shiny, facilitates their styling.
So about there. The hair is soft, shiny. At this point in time, this is exactly what I needed from the air conditioner. I hope he will serve me a long time.
Price about 300 rubles.