I did not have dandruff until I gave birth. It can be seen, my body is weak. Pregnancy, childbirth, breastfeeding did not pass for me completely. At first, I thought that I just need to change the shampoo, because my hair began to get greasy quickly. If I used to wash my hair about once every 5 days (my hair was closer to dry), now after 2 days it looked awful.
The change of shampoo, of course, did not lead to anything, and I already began to constantly scratch my head. Contrary to the opinion that dry hair has dry dandruff, and oily hair is oily, I had oily dandruff on dry hair. This, apparently, was served by the winter time and walking in a hat, under which the scalp grows fat.
I did not experiment with my hair by buying the means advertised on TV, but I turned to a hairdresser for advice. She advised me to take the drug, as she put it, of Soviet times, which still helps.
So I met with the paste Sulsen 1%. Buy it is not problematic in a pharmacy, and the price is pleasantly pleased. For a tube of 75ml. I gave up to 100 rubles. (25 UAH), but I do not remember the specific price. The smell of the paste is not the most disgusting, but slightly unpleasant. For me personally, he's normal.
The paste contains 1% selenium disulfide and a complex of useful additives. It is a preventive measure against excess sebum secretion, dandruff and itching; improves the vital activity of the hair follicles, improves the tone of the hair.
After washing the head, rub the paste in a circular motion into the skin near the hair roots, leave for 10-15 minutes, and then rinse with water.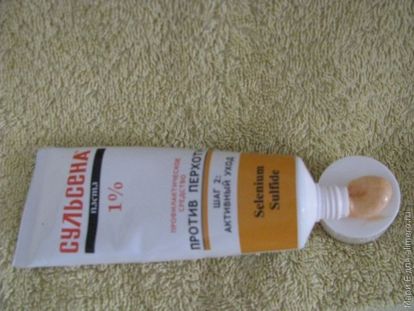 But to me, for some reason, the hairdresser told me first to rub the paste, and then after 10-15 minutes. wash your hair with shampoo. Maybe she was wrong, but I did just that. Apply the paste must be 2 times a week for 1 month, the frequency – 1 time in six months.
If you noticed in the photo, then paste 2 is written on the paste: active care. This is because there is also Sulsen shampoo, which should be the first step, but I did not buy it, but it completely cost one paste.
The result was not long in coming. Already after the first application, I felt an improvement, and after the second dandruff almost disappeared, but I still had patience and finished the course. Of course, I never repeated it. Two years have passed, and dandruff again reminded of itself after the winter, so again I begin to rub the paste in a circular motion.
Of course, dandruff does not appear because of the cap, but more often from poor diet, lack of vitamins, drying of the scalp and the use of a hair dryer, which is especially evident after winter. Also, from the wrong choice of shampoo and frequent styling using varnish and foam.
But we can not always dry our heads in a natural way, eat the right amount of vitamins and put our hair without means, therefore, we have to treat our hair with anti-dandruff remedies, such as Sulsen.