Girls, I do not know what happened to me, but I sharply wanted to grow hair! And as quickly as possible. Perhaps spring?))) Last time, she cut each time shorter and shorter. I liked it! Now somehow everything has changed. Immediately and 180 degrees.
To achieve thick and long hair, I chose a garlic mask. I must say, it was not easy for me to decide on this))) At first I thought with horror that everyone would shy away from me, smelling the smell))) Then I simply didn't believe any recommendations that were offered in various sources to eliminate this familiar fragrance.
Only now, having studied the question, I decided! I think it was not. After one time, no one will run away for sure, and I will check if the smell is really removed or not.
Why exactly garlic
It seems to me, everyone heard about phytoncides. And that they kill different bacteria, too. So, garlic contains a lot of them, so it is considered antibacterial.
In short, in order not to load you with medical terms and long logical conclusions, I will write short and simple. Any bacteria harm the body. Those that multiply on the scalp are no exception. Because of them, hair weakens, falls, grows poorly. In general, the sad picture.
Garlic is able to fix it by killing the bacteria. And it enhances blood circulation in the vessels of the head. Awakened and energized hair follicles begin to give us the desired result: hair growth.
The best thing is that apart from the garlic, we don't need anything in this mask))) I usually take 5 cloves. You can grate them on a fine grater, but you can grind them much faster with a blender. I do just that.
Then I rub all this mush into the scalp. After 40 minutes, wash off. First, just water. Then my head with shampoo. Then I use a rinse, which I will write below.
You can add any vegetable oil to garlic. This is usually advised for dry hair. I'm not dry. Only sometimes you want to indulge in butter. Therefore, I did this: alternating garlic mask with garlic and almond oil. So my hair does not spoil and does not get fatter.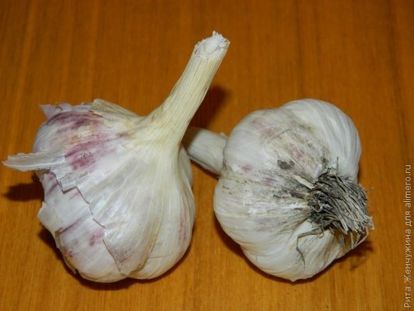 Anti-odor conditioner
The most convenient and inexpensive options are:
– 1 tbsp. apple cider vinegar
– 1 tbsp. dry mustard powder
– 2 tbsp. lemon juice
All this is indicated per 1 liter of water. Just stir and water it with hair, washing and rubbing lightly into the skin. Smell really then no.
I wanted to write this review much later, when it will be three months. Only now I am so happy with every centimeter that I grow that I could not resist)))
In general, it is necessary to make a mask once a week for two, and preferably for three months. I do 1.5. My result: 3.5 cm. I'm so proud of him)))
Girls, have you tried a garlic mask? It is said that it is also good to mix chopped onion with garlic. No such experience?